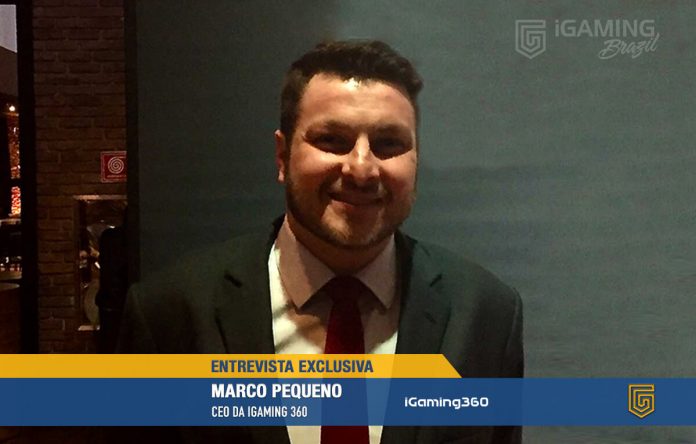 In an exclusive interview with iGaming Brazil, Marco Pequeno, a game consultant in Brazil for 8 years, comments on the current situation of sponsorship of Brazilian football by sports betting operators and indicates the way for clubs to make the best long-term deals possible.
Sponsorship of sports betting operators to Brazilian clubs grew exponentially in 2020. There are few Serie A teams that do not have a sports betting partner and this number is likely to be 100% this year.
However, there is still much to improve in the way agreements are tailored. So says the sports betting consultant and CEO of iGaming360, Marco Pequeno.
Working with major clients in Brazil, such as Dafabet, which recently closed sponsorship in América Mineiro, Marco gave an exclusive interview to iGaming Brazil about how clubs need to adapt to a more modern and digital universe if they want to continue to earn and even if they want to grow the figures received in partnerships.
Read below the exclusive interview with Marco Pequeno
iGaming Brazil: Marco, how do you see the sponsorship scenario in Brazil, especially in relation to sports betting operators?
Marco Pequeno: It is undeniable that the scenario is promising, given the number of agreements made only in 2020 and in the first three months of 2021. But it is necessary to be careful with the type of agreement that is made.
Our business is 100% digital and results can be easily enhanced and measured. And this opens up a range of possibilities that most Brazilian clubs still hesitate to see and enjoy.
iGaming Brazil: What kind of mentality is that? And what should they do to become more prepared to meet the real needs of an operator?
Marco Pequeno: The sponsorship model in Brazil is completely outdated. There are clubs that still see their shirts as billboards that are worth at least 7 digits, offering exposure and even some items such as cabins and little affirmative actions, which end up being a smokescreen on the real goal, which is to increase revenues, both for the club and operator.
Of course, exposure is important. It generates reputation, security and recognition, things that our industry needs on several fronts, but from there to charge 7 or 8 digits for deliveries that bring little measurable financial return and are based on brand value estimates, I find it a complicated investment with a return questionable at best.
Clubs need to stop seeing deals as mere sponsorships, where a company pays X and receives Y for deliveries, like a logo on the shirt, signs at the stadium and a handful of Instagram posts. This type of agreement is ending, and regulation has everything to be the fatal blow to this type of negotiation. In Europe, this model doesn't even exist anymore, with clubs totally adapted to a new way of monetizing their sponsorships and their fan bases. It is up to Brazilian clubs to understand where this culture comes from and to incorporate it, as the results are undeniable.
Modern agreements will not only include performance variables, but will be based on these indicators, making guaranteed payment practically irrelevant close to the potential that a performance partnership offers.
iGaming Brazil: But the amounts received by the clubs are really high, in the millions. Can performance agreements be superior to these?
Marco Pequeno: Certainly. But it requires adaptation. It is perfectly possible to multiply your revenue using performance, but for that to happen, you need to roll up your sleeves and work hard. And I believe that this is the great challenge, to make the clubs see and understand these agreements not as a sponsorship, but as a partnership, in which the club needs to be proactive, have vision and commitment to deliver results to the operator, as the operator himself club will receive part of these results. And as it is performance, there is virtually no limit.
For example: most Brazilian clubs prefer to receive R $ 2 million guaranteed and never see the contract variables take off, than reduce this guaranteed minimum to R $ 1 million or even less, but work together with the operator with significant deliveries, as well oriented and with real effort so that this million becomes 4, 5, 10 million reais. The sky is the limit, but it takes effort.
iGaming Brazil: Focusing on the elite of Brazilian football, there are clubs with tens of millions of fans. How can an operator take advantage of this?
Marco Pequeno: It is not just the operator who takes advantage of this situation of teams with large masses of fans. Clubs, in fact, can enjoy more than operators. I am a football fan, a fan like any Brazilian, but professionally I see a waste of the potential of the football product in Brazil, by clubs and federations. There is a lot of potential, but little is used in terms of business.
Talking specifically about clubs, and especially the biggest ones, which have the biggest fans, what do they do to monetize their fans? Take a club with a crowd of 18 or 20 million people spread across the country. What does it do to monetize at least a portion of this population, on a recurring basis? They sell tickets and products, mostly shirts. These are the two main sources of income that the average Brazilian fan gives to his clubs.
And it has gotten worse every year. High-value jerseys compete with piracy increasingly similar to the licensed product, but much cheaper and with shirts from clubs abroad that have attracted more and more fans due to the high quality level of football in Europe. About tickets, we already have a year that tickets are not sold in Brazil and the forecast is that this will last some time, unfortunately.
Moreover, clubs depend on broadcasting rights and sponsorships to fund their millionaire budgets. Even supporter partner programs are underutilized in Brazil. There are very few clubs that really take advantage of what is closest to them, both financially and in terms of information and intelligence sources.
But there is a mass of millions there, in the case of the biggest clubs in the country, waiting to be activated, won and used. A sports betting operator has the perfect solution for this to take place continuously, but many clubs still fail to see this opportunity.
iGaming Brazil: Do we already have clubs taking on this type of partnership?
Marco Pequeno: Yes, we have clubs that already think this way and they will have a lot of advantage over even powerful clubs, but that will have to adapt to this new reality in a late and forced way. Every change requires sacrifices, but doing it in a delayed and even desperate way will certainly not yield good results. Adaptation is always complicated, but the sooner you do it, the faster and easier it will be to achieve the results that a large betting operator offers its partners. Clubs that resist this change, believing that they will live on huge investments without worrying about effective counterparts, will unfortunately stay on the road, both on and off the pitch.
iGaming Brazil: Why do you think many Brazilian clubs still suffer to monetize their fans and make good deals in the long run?
Marco Pequeno: Operational conservatism. The mentality of many clubs is still stuck in an old-fashioned model and this prevents them from understanding more active partnership ideas, which are the future.