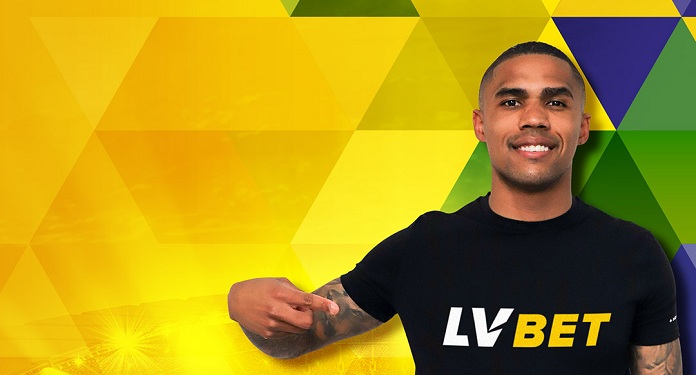 LV BET, sports betting site and online casino, has just announced Douglas Costa, a Brazilian football player and one of the star stars of the European Champions League, as the brand ambassador in Brazil.
Douglas Costas, who has defended the selection in more than 30 games and won titles in several European clubs, will participate in LV BET marketing actions and promotions aimed at the national market.
The 30-year-old has already played for Shakhtar Donetsk FC and is currently wearing the shirt of Bayern Munich, Germany. He will also share his ideas as an ambassador, while the bookmaker prepares for his arrival in the South American market, which has a passionate sports audience.
Representatives of LV BET and the player celebrated the new partnership
"I am very happy to sign with LV BET as a brand ambassador, now that they are entering the Brazilian market. This is an ambitious team with big plans, and I am privileged to help you with my opinions on football, "said Douglas Costa, who played in the 2018 World Cup for the Brazilian team.
Adrian Sidowski, CEO of LV BET, commented: "Having the Brazilian Douglas Costa at our side, a player of international prestige, is something that makes us very excited when we start this new chapter in Brazil. With a competitive product offering, we seek to leverage Douglas Costa's status to help us enter the market. "
Marcin Jablonski, the company's commercial director, stressed: "We are very pleased to have Douglas Costa as our ambassador, which will elevate our position in Brazil. It fits perfectly with LV BET, with the energy, commitment and momentum it shows in the field, combining very well with our philosophy as a brand ".
Jablonski added: "Working with Douglas Costa will not only provide LV BET with greater knowledge of the brand in the Brazilian market, but also allow us to gain confidence in a new market".
The agreement with Douglas Costa is the most recent association of the sports betting company, since LV BET is already the main sponsor of the Polish football club Wisla Krakow, one of the main champions of the Ekstraklasa championship, and also an official partner of England's Vanarama National League bets.

About LV BET
LV BET is an established brand in the iGaming sector, headquartered in Malta and with offices across Europe. The company provides a differentiated view of the industry and a customer-focused business approach. In addition, the bookmaker is licensed by regulators in the United Kingdom, the Republic of Ireland and Latvia.
Its operations are registered in Malta and are in accordance with EU legislation. LB BET offers a wide range of sports betting markets, in pre-game and live options, as well as a wide range of online casino games.