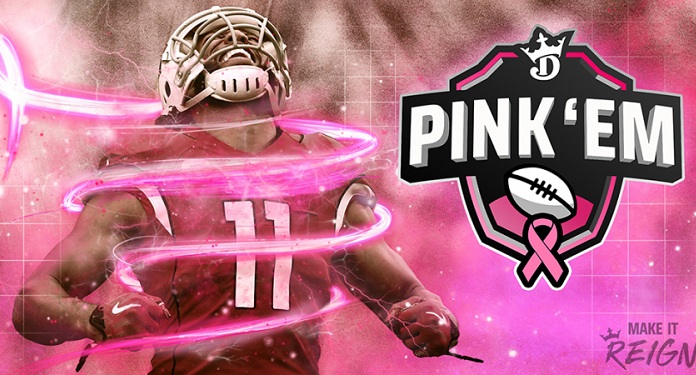 The DraftKings Pink Initiative, a month-long philanthropic action that features four charity contests each NFL Sunday during October, raised $ 113,000 to help fund research to combat breast cancer in partnership with the Larry Fitzgerald Foundation.
More than 385 thousand company customers supported the campaign throughout the month of breast cancer awareness. And, added to last year, the initiative accounted for more than 230 thousand dollars and more than one million participants in total.
Matt Kalish, co-founder and president of DraftKings in the United States, thanked the participants for their collaboration in a year affected by the new coronavirus pandemic.
"In a year that has been full of challenges, especially with regard to public health, we want to continue to raise awareness and help fight breast cancer as a disease that annually affects hundreds of thousands of people, predominantly women," he commented.
Kalish added: "Our customers make everything we do possible, and we thank everyone who participated in this Pink October, along with Larry Fitzgerald, for their defense and involvement of their foundation."
DraftKings held several social campaigns in 2020
Between $ 113,000 in donations for breast cancer studies this NFL season, $ 340,000 sent to social justice organizations during the most recent NBA and WNBA seasons, half a million dollars pledged to United Way to collaborate on the job against COVID-19, DraftKings has had one of the years with the most efforts in the area of ​​corporate social responsibility so far.
"On behalf of the Larry Fitzgerald Foundation, my sincere gratitude goes out to all DraftKings customers who supported us in the fight against breast cancer," said Larry Fitzgerald, wide receiver for Arizona Cardinals, an NFL team.
Fitzgerald added: "Breast Cancer Awareness Month is a significant moment for me personally, and the opportunity to help make a positive impact alongside DraftKings is truly special."
According to SBC Notícias, DraftKings' charitable focus will now shift from October Pink to Tech for Heroes, in which the company is planning special charity contests for Veterans Day during the month of November.