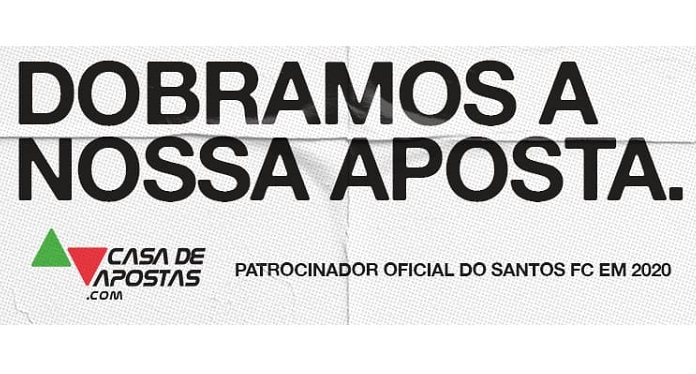 The Casa de Apostas extended its sponsorship with Santos until the end of the 38 rounds planned for the Brazilian Championship of Serie A. According to the Brazilian Football Confederation (CBF), the tendency is that the competition ends only at the beginning of 2021
The partnership between the Brazilian club and the Casa de Apostas began in the first half of 2019. The process of expanding the agreement still had the support of Sportradar, an international supplier of sports and betting data.
"We have the support of Sportradar, the world's leading provider of sports and betting data services, which has actively participated in the entire negotiation process and is essential to guarantee the interests of the company and the club," said Hans Schleier, Manager of partner of the Peixe.
He added: "Casa de Apostas recognizes not only the popularity of soccer, but its importance to society. The identification of the fan with a club is a part of his personality, for this reason, the Casa de Apostas decided to remain part of the history of Santos. As before, our brand will be stamped on the shoulder blade of Santos' shirts ".
Santos encourages fans to get to know the Casa de Apostas
The betting site has been on the national market since April last year. About a month after entering the country, Casa de Apostas became a partnership with the Baixada Santista soccer club.
"We always highly value sponsorship renewals: a sign of return on the investment made, recognition of the work on deliveries and activations, appreciation of our platform and opportunity for innovations and improvements for the benefit of the customer," said Marcelo Frazão, Marketing and Communication executive at Santos.
In addition, Frazão invited the fans to visit the sponsor's platform. "We appreciate the sponsor's double confidence in this very delicate moment for all sectors of the economy including the soccer industry. We invite fans from Santos to get to know and engage on the casadeapostas.com platform. More than ever, it is time to give maximum prestige to the brands that support our Club ", he concluded.