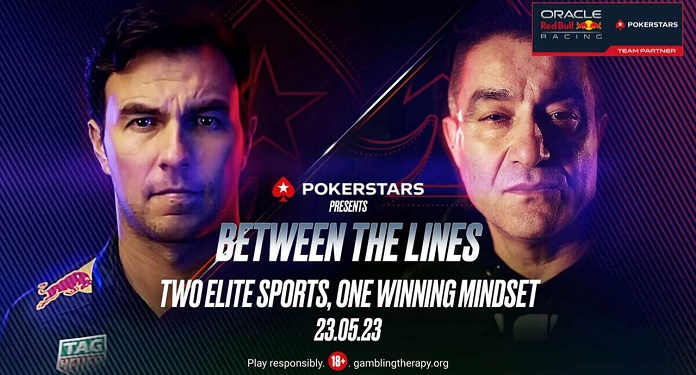 PokerStars has released the first episode of 'Between the Lines', a documentary series in partnership with the Formula 1 team, Red Bull Racing. The production underscores the relevance of strategy in racing as well as poker, and will allow community fans a fresh perspective on decision-making.
The first episode, called Fortune Favors the Brave, focuses on driver Sergio Pérez, who won last year's Monaco Grand Prix.
"Monaco really exposes the driver, the team and everyone involved. You have to be perfect; you can't make any mistakes… An early aggressive strategy requires you to make a decision before anyone else, like switching to a tire that nobody else is using," said Pérez.
"We love being a part of this content series powered by PokerStars. Strategy is at the heart of everything we do here at Oracle Red Bull Racing, as it is at the poker table. The series really brought home the synergies between the two sports," added Christian Horner, Team Principal and CEO of Red Bull Racing.
PokerStars ambassadors Lex Veldhuis and Sam Grafton, and champions Hossein Ensan, Giuliano Bendinelli and Michel Dattani also participate in the production. Additionally, the brand also unveiled its newest Red Spade Pass 2023, which will take fans beyond the screen, providing earners with the chance to have an unforgettable Las Vegas experience.
"Developing the Between the Lines series with the support of Oracle Red Bull Racing has given us a brilliant opportunity to look back on some of the most pivotal moments, and into one of the team's most successful seasons. As well as some of the most exciting moments in our live event history," said Rebecca McAdam Willetts, Director of Partnerships & PR at PokerStars.
New episodes of the PokerStars series
New episodes of Between the Lines are due out on June 6th, June 20th, and July 4th. Each one focuses on a crossover between the two sports, and touches on subjects such as: putting opponents in the rearview mirror and how staying one step ahead of the competition is crucial to securing victory.