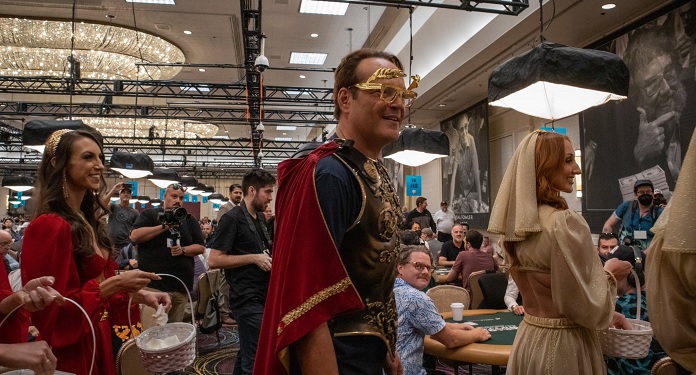 Actor and comedian Vince Vaughn arrived in style at this year's World Series of Poker (WSOP) Main Event to assume his role as Master of Ceremonies (MC).
The 52-year-old star made a memorable entrance to Bally's Events Center, surrounded by attendants dressed as Roman soldiers. Vaughn was also dressed like a Roman Emperor, with cape, breastplate and laurel wreath.
During his grand entrance, he unveiled his newly designed Main Event bracelet, before saying a few words and making the "Shuffle Up and Deal announcement" to kick-start the tournament.
Vaughn then toured the tables at Bally's and Paris Las Vegas, interacting with some of the most recognizable names in professional poker such as Phil Ivey, Johnny Chan and Chris Moneymaker.
"As Master of Ceremonies for the World Series of Poker, I couldn't be more excited to play a role on the Las Vegas Strip, kicking off the biggest and most prestigious poker tournament in the world," commented Vaughn.
Commenting on the desired bracelet, he said: "This is the Main Event, and a world champion needs an amazing trophy, not just a bad ring."
The new bracelet is made of 500 grams of 10 carat white and yellow gold, with 2,767 precious stones, including rubies and diamonds.
"The WSOP is the biggest deal in poker, but having a Las Vegas icon like Vince Vaughn unveil our bracelet and bring some fun to the event was a special moment," said Ty Stewart, Senior Vice President and Executive Director of the WSOP. WSOP
"We look forward to an exciting conclusion to what was a historic first tournament on the Las Vegas Strip."
About the WSOP
The World Series of Poker is a series of poker tournaments held annually in Las Vegas. It is considered the most famous poker championship, bringing together players from all over the world, in which tournaments are played in various types of poker, and whoever wins the WSOP Main Event will be declared the champion. In addition to the cash prize, the champions receive a gold bracelet as a trophy.