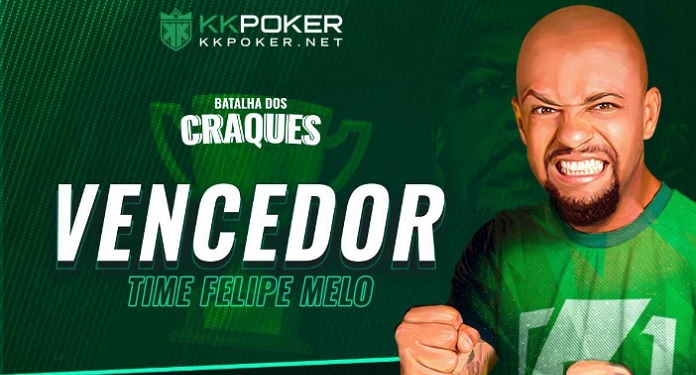 With two championships that had more than 200 people and the participation of players Felipe Melo (Fluminense) and Rodrigo Caio (Flamengo), the Battle of the Craques, a campaign carried out by KKPoker and which brought to online poker all the rivalry of the classics of football.
There were more than 30 days of an incredible duel between the teams that represented Team Felipe Melo and Team Rodrigo Caio. With the end of the campaign, Team Felipe Melo recorded more points and won the competition.
Being at the same table as the players was the highlight of Batalha dos Craque. The two tournaments with the participation of the stars were shown live via streaming (Live VODs can be watched on the KKPoker channel on Twitch).
With narration and comments by Victor Marques, considered the 'Galvão Bueno' of poker broadcasts, Felipe Melo and Rodrigo Caio had a lot of fun during the events and were able to talk about poker and also about their respective stories in football.
The winners of these two Main Events were users KKJeferson (Team Felipe Melo), who took home US$1,087.55 in prize money, and Giant Rabbit-KK (Team Rodrigo Caio), who pocketed the jackpot of US$1,183.40. In addition, more than 700 people participated in the Tournament of Champions, exclusively for members of Team Felipe Melo.
Over the course of the promotion, more than 10,000 player entries were registered in the application's competitions, with the distribution of autographed t-shirts and gifts. In all, more than US$ 40,000 were distributed in awards in the campaign.
About KKPoker
Active online poker platform in over 33 countries, KKPoker is licensed by the Isle of Man Gaming Supervision Commission and provides online gambling 24 hours a day with the chance of cash prizes.
Specializing in mobile poker experience, with an app available for Android, KKPoker has just released a desktop version, available for Windows. Both in the app and in the desktop version, users, mostly recreational players, find numerous differentials such as daily freerolls, 1st deposit bonuses and free tickets to complete challenges.
KKPoker has several deposit and withdrawal methods available to its global player pool, involving commonly used methods such as Debit/Credit Card, PIX, Skrill, Neteller, Ecopayz and cryptocurrencies.