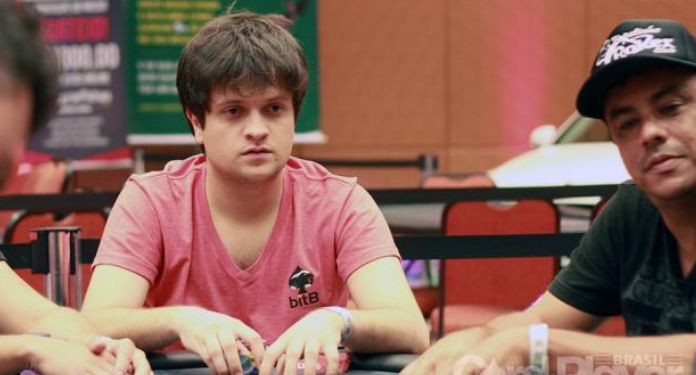 Having won more than 6 figures at the felts last year, and several times, today he is considered, along with João Simão, Rafael Caiaffa and Lúcio Antunes, a national poker star.
The last of the feats took place on Pokerstars, in a breathtaking final table: Eduardo Silva escaped elimination several times to finally let out the champion's cry in the US$ 530 Bounty Builder High Roller, last March, winning US$ 57,415.
Before that, last month, Eduardo also nailed the podium, increasing the morale of the miners, in the Enjoy Poker Tour of the Americas Cardroom, placing third and with a very chubby prize.
Check out the exclusive interview for iGaming Brazil
iGaming Brazil – How did you start playing poker? Who are your idols or role models?
Eduardo Silva – I started playing poker about 10 years ago with friends from high school, we played purely for fun after school or on weekends. I started to enjoy the game and after all, I and a few others delved into the game and started to study more in depth, and here I am on this same mission until today. My idols when I started were Akkari/Decano/Caio Pimenta and today in Brazil I would say that Yuri `TheNerdGuy` is the greatest idol our nation can have.
iGaming Brazil – Do you play online or in person? Which one do you like the most?
Eduardo Silva – Basically 99% of my volume has been online in the last few years, because it makes more sense to me financially and because I feel more comfortable playing behind the computer than playing a live tournament. I think online is more fun, but the live interaction, meeting new people, the post-tournament review, this is definitely priceless!
iGaming Brazil – How was it for you to play in person poker again after 2 years due to the pandemic?
Eduardo Silva – It was really cool, my return to face-to-face poker took place last year in Vegas for the WSOP. So, in addition to being a return to face-to-face poker, it was my first experience in Las Vegas. I think that ends up being very striking for every poker player. I'm already looking forward to going back this year!
iGaming Brazil – What are your plans going forward, year 2022-25?
Eduardo Silva – My plans in poker are to become the best player possible within my limitations. Keep evolving daily and improve a little each day. If I can keep the same pace as I am today, in the next 5 years I'm sure I can get much further than I've already done.
iGaming Brazil – What are your memories of your first tournament as a professional and the first title you won?
Eduardo Silva – My first poker tournament was a disaster, I saved money all month to go play and I was eliminated in the first hand. It was certainly one of the worst feelings I've ever had in the game and I don't wish that on anyone who is starting, today after years I've gotten used to the instability of the game and, of course, it wouldn't affect me anymore.
My first title (live poker) was very special too, it was a tournament here in the city for 100 reais if I'm not mistaken and I won about 5 thousand reais at the time. I would say it was an impulse for me to continue dedicating myself to poker and believing in my potential.
iGaming Brazil – What awards do you highlight in your career? What relevant facts could you mention?
Eduardo Silva – Fortunately, my career is full of great awards and achievements and I am very happy/proud of that. And I would say mostly last year was where my career took off and I managed to have the biggest cashes, with about 7 6-figure cashes and two final tables with 7-figure payouts for the first one. On top of that, I played the most expensive tournament of my life, with a $25,000 Buy In, and still got a great place making the final table.
iGaming Brazil – Why online poker has grown so much? How do you explain this explosion?
Eduardo Silva – Online poker has always been growing over the years, it's a fantastic game and the more people know about this game, the more it grows. During the pandemic we had a boom in online poker, which made perfect sense, since everyone was isolated inside the house and poker is both a form of fun and work.
iGaming Brazil – What things did you change as a player after the pandemic ended?
Eduardo Silva – Actually, nothing, what was left of the pandemic (in relation to poker, of course) were moments of happiness and gratitude, since while the world was falling apart, our profession took off and this allowed many players to get their freedom financial.
iGaming Brazil – What is your opinion and vision about Brazilian poker? What place does it occupy in Latin America?
Eduardo Silva – Brazilian poker is by far the strongest in Latin America and perhaps in the world. What Brazil has been doing in online poker over the last few years is something that's been great to see, and I hope it stays that way for a long time and that I'm at the forefront of this Brazilian squad on the way to dominating the poker world.