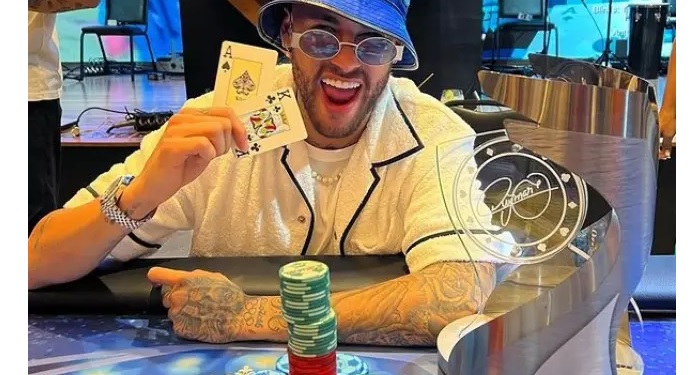 Shirt 10 of Paris Saint-Germain and the Brazilian team, Brazilian player Neymar Jr. also likes to face challenges at the poker table. Therefore, the ace participated in the Winter Series High Roller, an event with a buy-in of US$ 10,300.
The athlete managed to advance considerably in the competition and took third place. According to SuperPoker, the championship brought together 83 players, but only nine returned for the final part of the dispute. Neymar ended up barred only in 3-handed.
With this result, the cultural ambassador of PokerStars pocketed a significant amount: 125,678.01 dollars. This was the Brazilian player's third final table in this edition of the Winter Series. Previously, the Brazilian national team forward took seventh and third place in the competition.
Neymar started the final table as chip leader and always remained at the top of the chip count. However, the football player started to have his participation threatened in the 3-handed, when he bluffed with only K-high. At this point, German competitor Christoph Vogelsang made a hero call with A-High.
Neymar even showed some reaction, however, he ended up losing a preflop all-in to Chistian Rudolph. As such, he was left with only 20 blinds. Soon after, the player put all the chips on the table again and did not achieve the desired result, being disqualified from the dispute.
The Brazilian ace was next to Pedro Garagnani at the last table. The Ninetales pro ended his participation in the competition with seventh place and totaled $39,553.56 in the bankroll with that result.
Partnership of Neymar Jr. and PokerStars
In April of last year, Neymar Jr formed a partnership and became a PokerStars Cultural Ambassador. From then on, the football player started to carry out several actions with the poker platform, such as musical, artistic and fashion projects.