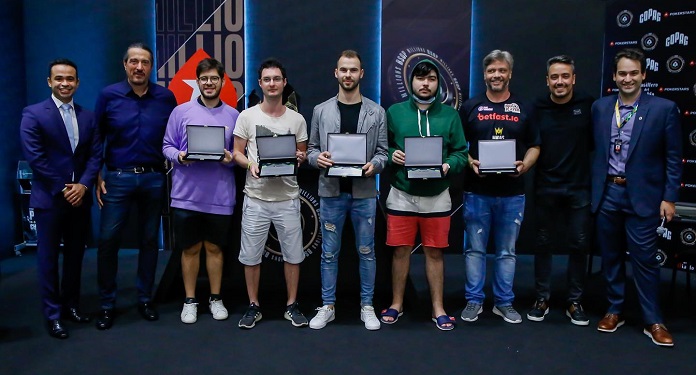 The Brazilian Confederation of Texas Hold (CBTH) held an event to honor all Brazilians who won bracelets at the WSOP (World Series of Poker) in 2020 and 2021. This ceremony took place this Sunday, 5, in the main hall of the WTC Sheraton, in São Paulo Paulo, during the last day of the BSOP Millions.
On that occasion, the president of CBTH, Ueltom Lima, handed a plaque to each of the champions: Marcelo Jakovlevic, Eduardo Garla, João Simão, Leonardo Mattos, Thiago Crema, Eduardo Pires, Lúcio Lima, Renan Bruschi, Eduardo Rodrigues and Paulo Joanello.
The BSOP Millions 2021, the biggest poker tournament ever held in the southern hemisphere, took place again in Brazil between November 24th and December 5th. With 140 poker tables, the tournament played host to over 40 tournaments over its 12 day duration. The event also had awards that totaled more than R$ 15 million.
About CBTH
The foundation of the Brazilian Confederation of Texas Hold took place on January 29, 2009, including all categories and with very clear objectives.
According to the official website, CBTH covers the main and most widespread form of poker, Texas Hold'em, and all other variants of sports poker worldwide, such as: Omaha, Omaha High/Low, 7 Card Stud, 7 Card Stud High/Low, Razz, Mixed Games and other variations involve playing sports poker.
The confederation's objective is to fight for the recognition, in Brazil, of sport poker as a dignified, lithic, decent activity and capable of developing in its practitioners various skills, such as mathematics, statistics, discipline, emotional control, competitiveness, reasoning, psychology, intelligence, objectivity, sportsmanship and sociability.
In addition, CBTH aims to promote sports poker widely, striving to spread a good image of the sport and its players. The organization also seeks to participate in other entities representing world poker, as the highest representative organization of poker in the country.