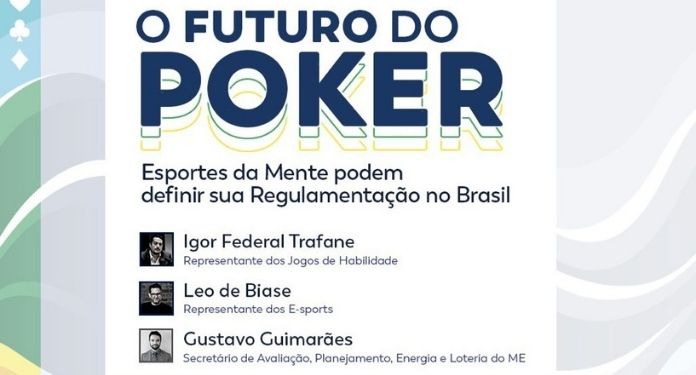 This Thursday, 16, starting at 3 pm (GMT), SECAP (Department of Evaluation, Planning, Energy and Lottery) will promote a webinar with the theme "e-Sports & Mental Skill Games".
At the meeting, Gustavo Guimarães, head of this Secretariat portfolio, will receive Igor "Federal" Trafane, president of the Pan American Poker Confederation and one of those responsible for recognizing poker as a game of skill, and Leo De Biase, director of BBL and -Sports and representative of one of the fastest growing sectors in Brazil and abroad.
Mental skill games appear as a great opportunity for regulatory advancement in the national territory. This is the ideal time for poker, as well as other sports in which logical reasoning predominates as a primary characteristic, reveal its impact as an economic activity capable of generating investments, income, taxes and jobs.
SECAP is interested in discussing the regulation of the Games
SECAP is responsible for analyzing public policies, government planning and the execution of the regulation of Games in Brazil, and is interested in debating the regulation of this modality.
If this regulation is achieved, it will provide legal certainty for a category that has long been clamoring for a clear and definitive regulation for its operation. And, it will also provide greater stimulus to investment, creation of new businesses, continuity of thousands of jobs, opening of new jobs, clarification on tax collection, generation of new currency, recognition for professional players and strengthening of competitions related to these types of games.
The long term came to national poker due to the involvement of players, entrepreneurs and representatives of the activity. Currently, poker is going through one of the most important periods in its history in Brazil.
There are several players at the top of the rankings in recent months, in addition to winning titles and revenue from national players and a live poker segment among the top three on the planet. These feats could only be obtained with the public having security to play, situations achieved by the Federal over time ahead of the Brazilian Confederation and the consolidation of the national industry.
eSports Situations
Regarding eSports, the country already appears as the third place in this segment worldwide, surpassed only by China and the United States, with champions in the most popular sports.
Today, there are more than 215 million fans on the planet, 10% of which is in the national territory alone. More than electronic sports, the practice has turned into a highly profitable and organized business, with global revenues in excess of $1 billion.
All these details will be covered in the webinar promoted by SECAP, which provided a form for prior questions that will serve to guide the conversations, in addition to those to be carried out directly in the YouTube chat during the panel.