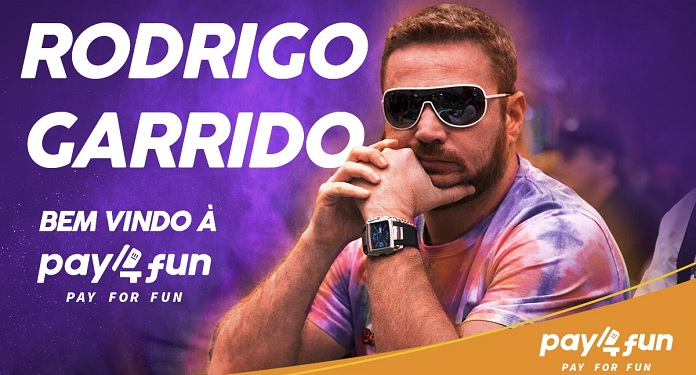 Pay4Fun has just announced the deal with its first ambassador. Holder of several poker titles, Rodrigo Garrido entered into a partnership with the company.
Leonardo Baptista, CEO of Pay4Fun, gave more details about the deal. "Garrido and I know each other for having worked together in the past. It was from there that I saw Garrido flying higher and higher and showing to be an extremely focused, respected and, most importantly, extremely loved professional in the poker world ", he declared.
Baptista continued: "Garrido has followed the whole history of Pay4Fun since the beginning, our hard work to consolidate and start the company's trajectory until today, where we have a very sustained growth".
According to the CEO, this is an ideal time to formalize the first representation agreement for your company.
"Now, the exact time has come to invite you to represent Pay4Fun, as Garrido is synonymous with everything we want to be for our customers. We are a company that works with technology, but above all, it values ​​the credibility, humanization and professionalism that Garrido is able to translate through his career ".
In addition, poker is one of the verticals covered by the company, while Garrido has a winning track record in the game.
"Without a doubt, Rodrigo Garrido is a wonderful gain for the Pay4Fun team, because through his presence at the championships, Pay4Fun's name will be associated with a winning person and, above all, with integrity, which fits the company's philosophy seriousness and excellence ", he said. Leonardo Baptista.
Garrido speaks of the expectation of representing Pay4Fun
Rodrigo Garrido started his career in poker in 2005, becoming professional four years later. Before that, he participated in chess tournaments and worked in the banking segment.
"It is very good to have a company that offers a service that really facilitates the daily life of poker players, believing and investing in a professional in the game," he said.
He added: "I am motivated to introduce the poker community to a tool like Pay4Fun that, in fact, helps both professional players and amateurs to move their financial resources."
This is because the company allows the transfer of chips between numerous competitions, a problem for both amateur and professional players.
"In the past, if you won a prize in a certain competition and wanted to play another one, you needed to sell your chips or be able to make the switch with another player to be able to participate in all the desired championships," said Garrido.
Through Pay4Fun, these resources can be transferred securely using the electronic wallet. "Which is very important, at a much lower cost," he concluded.