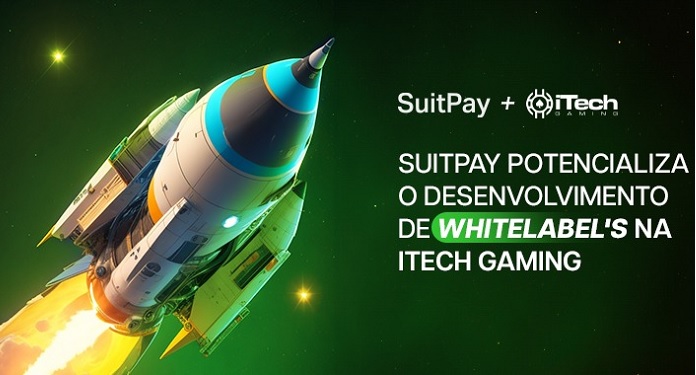 iTech Gaming has established itself as one of the most agile and innovative development companies in the online gambling sector. Its commitment to excellence and the incessant search for solutions that raise the standard of iGaming have driven the market's growth. A crucial piece of this success is the strategic partnership with SuitPay.
A technology company specialized in payment processing that is enhancing the whitelabel production process at iTech Gaming, optimizing financial transactions and boosting the operational efficiency of its developers.
Delivery Agility: A Half-Hour Record
iTech Gaming is known for its agility in delivering online casino systems, setting an impressive record of implementation in just half an hour, with all providers fully configured.
This commitment to efficiency and speed extends to the partnership with SuitPay, where optimizing the financial transaction process has become a key factor in the rapid production of whitelabels.
The Complete SuitPay Ecosystem at iTech Gaming
SuitPay offers a complete ecosystem of financial solutions, making it an ideal partner for iTech Gaming.
The variety of services, including Internet Banking, Payment Gateway, Checkout, Payment Link, Pix, API, Prepaid Cards, International Exchange and Sales Management for infoproducts, contributes to iTech Gaming's versatility and operational efficiency.
SuitCard: Efficient Financial Management
SuitCard, the prepaid card offered by SuitPay, adds a crucial element of control and efficiency to the process.
With virtual and physical cards, detailed reports and the Mastercard brand, iTech Gaming can use SuitCard for a variety of purposes, from specific expenses to advertising campaigns.
Competitive Rates
iTech Gaming benefits from the competitive rates offered by SuitPay. With a fixed rate for merchants and options such as Pix and Boleto, iTech Gaming can maximize its profitability in financial transactions, maintaining an effective cost in an extremely dynamic market.
Security and Transparency
SuitPay, anchored on the principles of integrity and transparency, provides iTech Gaming with a solid foundation for its financial operations. The security offered by the platform contributes to customer confidence and the full protection of all transactions made through the platform.
iTech Gaming and SuitPay: Successful partnership
The partnership between iTech Gaming and SuitPay not only optimizes financial transactions, but solidifies iTech Gaming's position as an innovative leader in the iGaming market.
With SuitPay leveraging the development of whitelabels, iTech Gaming is positioned to continue its successful trajectory, offering agile, efficient and innovative solutions for the dynamic universe of online gambling games.