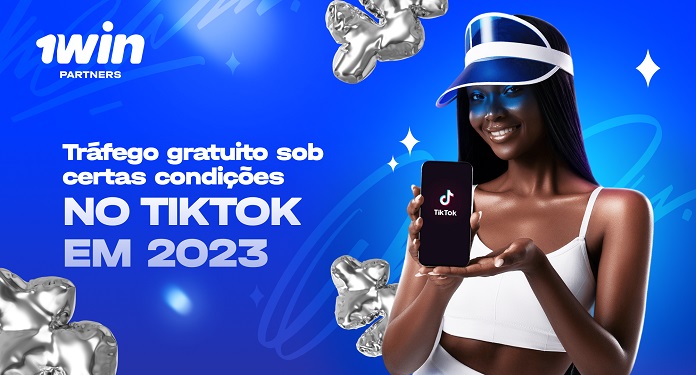 For all its popularity, TikTok remains an underrated traffic source that publishers have yet to 100% exploit. Just dig a little deeper into the statistics and it becomes clear that this social network is "doomed" to popularity in the world of buying and reselling traffic. 1win Partners has no doubt that you know this too.
Knowing that you can work with this platform completely free of charge is even better. And the combination of Gambling and free traffic under certain conditions seems so attractive that we can't help but share it with you.
Don't forget that working with free traffic is a very popular idea. Therefore, the key to your success is understanding the platform itself and its audience. That's what we're going to focus on today in a new article from 1win Partners.
Algorithms and recommendations
You know very well what TikTok is. Millions of people across the planet spend hours scrolling through an endless feed of short, boring videos. Videos can be from those you follow or popular "recommendations" (also called FYP – For You Page). It is precisely the second option that is of most interest to ordinary users and, therefore, to referees.
TikTok has its unique algorithms to thank for its incredible popularity. As soon as you upload a new video, algorithms show it to hundreds of interested users who are online (and those who are most likely to like, write a comment, or send the video to friends).
After evaluating their reaction (number of likes, average viewing time), the algorithm shows the video to the next hundred. The video receives the most attention in the first 24 hours after publication.
Everyone benefits from this approach. Users receive an interesting feed. Content creators quickly build their audience, which motivates them to make new videos more often. The social network itself receives traffic from users whose average daytime activity time is even higher than on Instagram. And arbitrators have the opportunity to use algorithms for their own purposes.
Going into recommendations guarantees almost unimpeded conversion. If you intend to make TikTok one of your main work platforms, we recommend that you first create a good account.
Correct arbitration account on TikTok
There are two types of accounts on TikTok: personal and agent. The first are common personal profiles; You can register them yourself or buy from account sellers.
The second (of agents) is, in a way, an analogue of Facebook's business manager: from one such account you can manage several other ad accounts. You can work with traffic from both accounts, but agent accounts generally have a longer shelf life.
If you want to register your account yourself, please indicate the desired GEO when registering. TikTok has GEO targeting, meaning no matter what type of videos you have and what language they are in, the algorithms will promote them in a certain country. Therefore, you need to register an account exactly in GEO where you intend to attract users.
Creating an account is easy. Preparing it correctly is more difficult. The account is heated using common publications. Just start posting videos 2 to 3 times a day.
We recommend not ignoring the initial warm-up (from 5 days to two or three weeks), as its life cycle depends on the "reliability" of your account. Older accounts (more than a year old) are banned much less frequently.
We don't ask you to post something all year round, but as you well understand, the better your legend, the more reliable your profile will be for moderation systems.
But there is a simpler solution (classic for arbitration) – not to waste time and buy ready-made accounts and work with them.
Difficulties when working with free traffic under certain conditions on TikTok
The main difficulty when working with TikTok is scaling your reach without getting banned. TikTok's main focus when moderating is violating the platform's advertising rules, that is, advertising a casino is already a violation. Therefore, it is better to be prepared for the ban. But there are several ways to get around these rules:
Do not mention the advertiser's brand. TikTok reacts to brands like a bull to a red rag, now a video with an excerpt from some stream can pass moderation.
Do not leave direct links to the casino. One of the basic principles of TikTok is that there should be no direct links to casinos on the platform, so it makes sense to transfer traffic first to Telegram or pre-landing, where there will already be a direct link.
Conquer not through quality, but through quantity. It is more difficult to work with a large number of accounts, but with their help it will be much easier to find leads.
TikTok has an important rule: you can't just post other people's content. In other words, if the algorithms find the same videos on different accounts, they will all be banned. Therefore, use exclusive services.
There is another difficulty that is little discussed: not all advertisers accept free traffic under certain conditions, as this traffic is not always profitable. But 1win Partners is not one of them – we accept free traffic under certain conditions!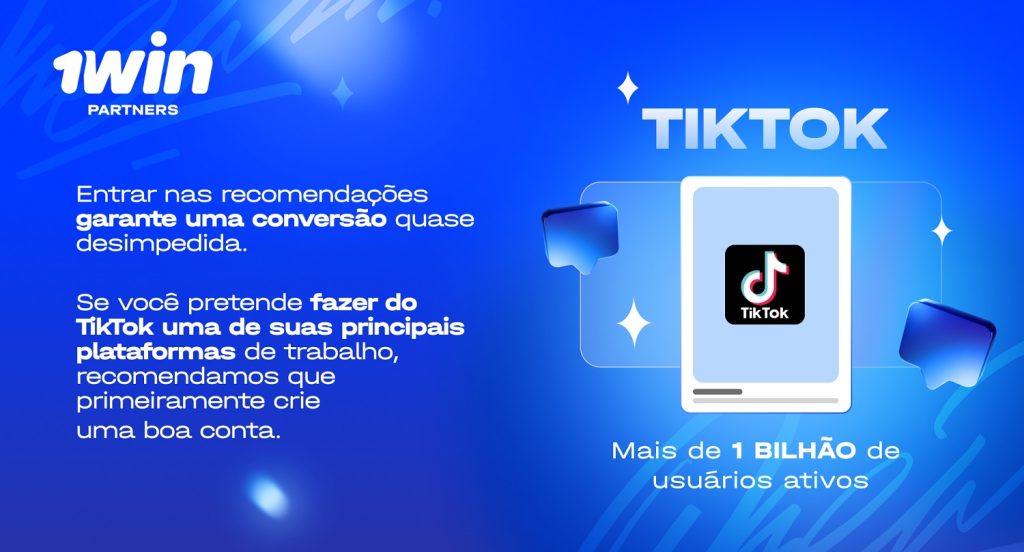 How to Find Gambling Traffic on TikTok in 2023?
Streams
Streams are still one of the most popular methods of working with free traffic under certain conditions. But you can easily get banned for streaming. But there are still some ways to minimize the risks. The first is, as always, betting in quantity, that is, uploading streams to several accounts at the same time. The second, as we said above, is to correctly warm up your accounts.
Account disclosure
Post themed videos on your profile and promote it by gaining followers. You will have to learn how to work with cloak (English: "to cloak" hide, mask – a technology for hiding or replacing content, in which users see different content when clicking on a link) and always create "catchy" content. The main difficulty here is how to ensure that a large number of people see the link. There are several ways:
Organic. Always get into recommendations, for better or for worse. If you can get in, you will get views and followers; otherwise, use the following methods.
Spam. Leave comments below the videos your target audience watches (just don't forget to shorten the link). If you choose this disclosure method, your accounts will be banned quickly, so it is better to buy the cheapest ones.
Mass likes and mass followers are part of this too. It works right at the beginning, while there are no followers, to gain at least some audience. People will be more willing to follow a profile that already has followers. But then you will have to attract your organic audience anyway.
Redirecting traffic to another platform
The most popular platform for retargeting is Telegram, and from there to the advertiser's website. Channels where they talk about "secret" tips and casino bonuses work well for this.
WebView and Progressive web apps
Driving traffic to apps is one of the relatively safe ways to work with gambling offers. These apps are hosted on the AppStore and Google Play, so their credibility is greater. Here you also need to use cloaking. Targeted traffic is sent to the casino registration page, but moderators only see a "white" page.
Buy advertising with bloggers
From the name you can understand everything. The advantages are as follows: you don't have to worry about creating and promoting your account. But there are also disadvantages. Not all bloggers will accept promoting casinos. Furthermore, the value of this advertising can be quite high.
If these disadvantages do not stop you, then it is better to prepare the arts yourself, both visual and textual. Special attention should be paid to choosing bloggers for advertising.
You shouldn't chase reach, the most important thing is that the blogger's audience is really alive and not fake. You can check this by asking the blogger for a printout with real statistics; if everything is true then people have no problem showing these statistics, otherwise something is wrong.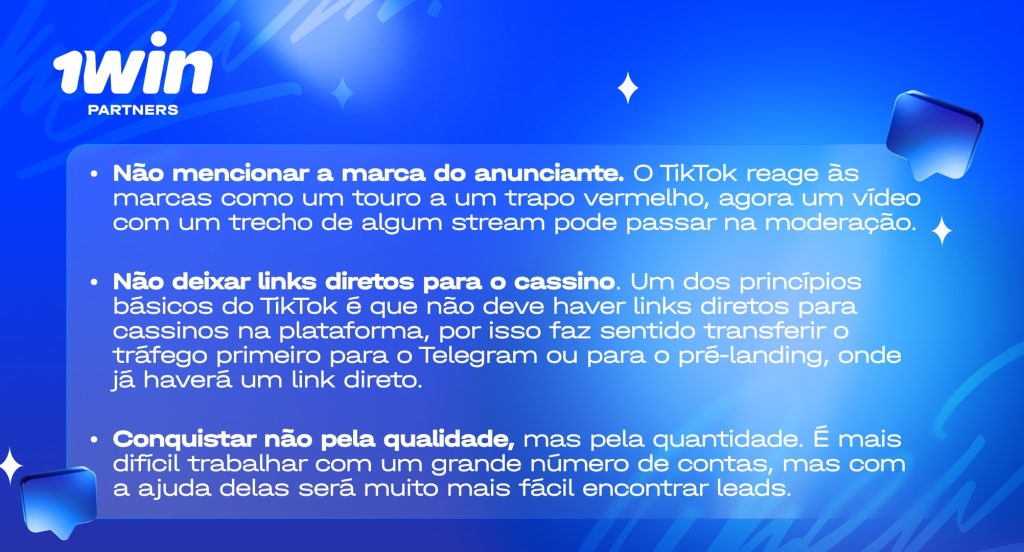 Art for TikTok
For TikTok you will have to show the maximum of your personal creativity. But we will still give you some tips to make your search for leads as comfortable as possible.
Learn how to record, write a script and edit videos on your own, of course, taking a specific topic into account. Remember that your only objective is to draw the user's attention to the link and make them register.
A simple but more expensive option is to purchase the video from freelancers; for $20-25 you can get your unique, high-quality video.
Examples of art
Considering that people often go on TikTok just to relax and laugh, casino-themed memes work well.
Those emotions of playing in a casino also remain relevant. The advantage of this format is that you can record it yourself. The most important thing is not to overdo it, everything has to be natural, but at the same time captivating and exciting.
Don't want to make your video yourself? You can always take clips from a popular stream, for example, take videos of Drake and Neymar playing roulette and poker.
What is it, anyway?
We hope we were able to increase your interest in TikTok. We are sure that webmasters who manage to find a universal approach to social networks will not only earn record amounts, but also become famous.
Because they will definitely prove to others that the development of new sources and platforms allows the entire industry to grow and prosper. If you want to go this way with 1win Partners, feel free to write to our affiliate manager and you will receive the most favorable terms of cooperation. Subscribe to us on social media: Х, Instagram, Telegram and YouTube. Good luck!