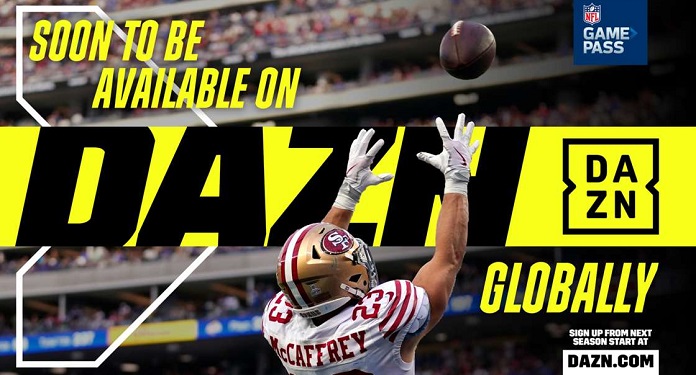 The National Football League (NFL) and DAZN Group have entered into a 10-year partnership to distribute NFL Game Pass International to sports fans around the world beginning in the 2023 season.
NFL Game Pass International allows fans outside the US to watch all NFL games during the regular season and postseason, including the world's biggest annual sporting event, the Super Bowl.
The world's leading digital sports streaming service, DAZN is on most connected devices including Smart TVs, smartphones, tablets and game consoles. NFL Game Pass will be available through the DAZN app as a standalone subscription or an add-on to an existing DAZN package for customers worldwide, excluding China.
With access to DAZN's platform – including its data-driven technology, global distribution network and marketing resources – the NFL will be able to attract new audiences in the next decade, expanding its growing international fan community.
"Growing the NFL globally is a key strategic priority for the League and our 32 franchises. We are excited to partner with DAZN to help us accelerate this effort," said NFL Commissioner Roger Goodell.
"Our goal has always been to make our games available to as many fans as possible, and we are confident that DAZN's innovative technology and streaming experience will better serve millions of viewers around the world, while also engaging a new generation of fans. international NFL fans," he added.
"The NFL is among the top sports media properties and DAZN is incredibly excited to be chosen as an international partner," said Shay Segev, CEO of DAZN.
"DAZN is the only company focused on delivering the best digital experience to sports fans around the world and I am confident that we will deliver an outstanding experience for NFL fans, helping the League to attract new markets and demographics in the phenomenal sport that is the NFL. We can't wait to bring all the passion and excitement the NFL is known for to our consumers as we continue to build the ultimate global destination for sports fans."
About the NFL
The National Football League is America's most popular sports league, made up of 32 franchises that compete annually to win the Super Bowl, the world's biggest annual sporting event. Founded in 1920, the NFL has developed the blueprint for the successful modern sports league, including national and international distribution, broad revenue sharing, competitive excellence and strong franchises across the country.
DAZN Group
DAZN is a leading digital sports platform in Italy, Spain, Germany, Belgium, Portugal, Japan, Canada, USA and UK. Its exclusive content portfolio includes world-class football featuring the world's most popular competitions – Bundesliga, English Premier League, JLeague, LaLiga, Serie A and UEFA Champions League, as well as the biggest sports from around the world – Formula 1, NFL, NBA , MotoGP and UFC.
DAZN is the home of boxing and combat sports worldwide through its partnerships with Matchroom Boxing the Professional Fighters League, as well as women's football with UEFA Women's Champions League and Finetwork Liga Feminina.
The Brazilian portfolio includes Serie C matches of the Campeonato Brasileiro de Futebol, men's soccer state championships in Alagoas, Ceará, Goiás and Pernambuco, UEFA Women's Champions League (UWCL), boxing world championships in partnership with Matchroom Boxing, Golden Boy and Anthony Joshua, in addition to MMA and Luta Livre.
The service also has original content, with series and documentaries about the world of sports, including: O Fenômeno, Maradona: A Queda and La Guerra