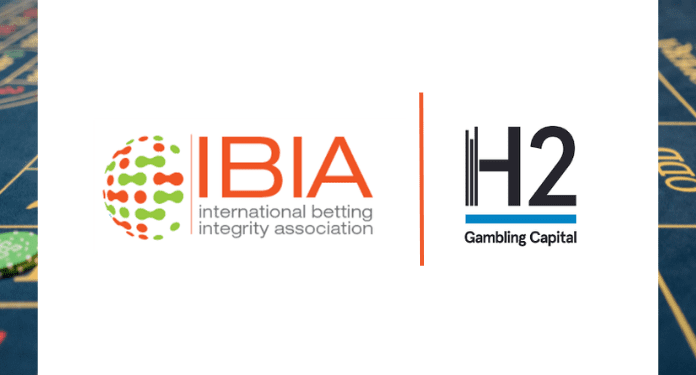 The International Betting Integrity Association (IBIA) and H2 Gambling Capital (H2), the world's recognized industry authorities on betting integrity and betting market data, have signed a renewal of their successful partnership agreement which sees two organizations work to raise the standards of betting market regulation and integrity protection.
H2 and IBIA, notably, have teamed up to produce the groundbreaking Betting Market Study published in June 2021 – the first analysis of its kind which ranked betting industry regulation in 20 jurisdictions across six continents across a range of models. of licensing. The study was the first to be based on real data provided by over 20 of the world's leading betting operators.
IBIA has provided its experience and knowledge of regulated market developments, notably related to betting integrity practices, in many jurisdictions around the world and recently has particularly focused on the US and Canada, and H2 has increasingly worked more on modeling the financial impact of regulatory changes, as well as accurately sizing the offshore market.
The renewed partnership retains H2 as the official betting market data partner of the IBIA and includes access to H2's extensive market database of around 2 million data points covering over 175 gaming jurisdictions in over 100 countries. H2's data has been employed in IBIA's responses to regulatory inquiries and broader market activity for a number of years, and the two will continue to undertake deeper dive assessments of markets deemed good for licensed operator development.
Khalid Ali, CEO of IBIA, said: "IBIA works closely with key stakeholders such as regulatory authorities to ensure that the proper licensing and mitigation process is in place to protect markets from corruption."
"Having access to accurate and reliable market data, to add to our global health data, is a critical part of that outreach. H2 Gambling Capital is the leading authority on global gaming markets and our partnership has been a vital component of our activities. upholding IBIA's integrity best practices around the world. We are pleased to renew and maintain this relationship," added Ali.
David Henwood, director of H2, said: "We've known the IBIA team since the early days and witnessing the organization's growth up close since then has been truly impressive."
"With so many new markets yet to open and more established ones now starting to see their structures tighten up, it's more important than ever to continue to provide that great independent market insight and ensure that any regulatory decisions that are made are supported by data and more accurate market analysis. We are pleased to continue to support IBIA as co-partners in this space," added Henwood.
About IBIA
The International Betting Integrity Association is the world's leading voice on integrity for the licensed betting industry. It is run by operators for operators, protecting its members from corruption through collective action.
Its monitoring and alerting network is a highly effective anti-corruption tool that detects and reports suspicious activity in its members' betting markets. The association has longstanding information-sharing partnerships with leading sport and gaming regulatory authorities to leverage their data and prosecute corruption.
She represents the industry in high-level betting integrity policy discussion forums managed by the IOC, the United Nations, the Council of Europe and the European Commission.
About H2 Gambling Capital
H2 Gambling Capital is widely regarded as the industry's most trusted provider of data and market intelligence and is easily the world's most highly rated independent source for published company reports, transaction documentation and buy and sell analyst notes, as well as in commercial and business media.
The company also tracks and comments on regulatory movements in the market, provides updates and financial models for all major operators and vendors in the industry, online market share in key markets, quarterly analysis tailored to premium subscribers, and conducts "deeper dives" of advisory commissions tailored to clients.