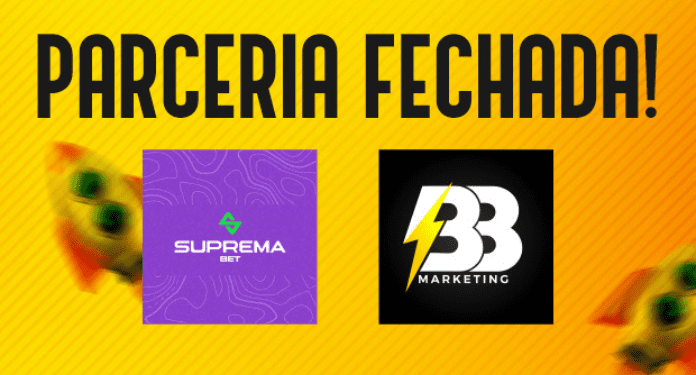 BB Marketing announces its new partner in the market! This is Suprema Bet, a company belonging to the Suprema group that also owns the Suprema Poker brand, the largest league in the world within the segment.
The agreement provides for a very complete commercial delivery, as well as essential items for brand development (paid traffic, social media management, attracting and managing influencers, etc.). Already consolidated in the world of poker, Suprema decided to open a new area for the gaming market that grows the most within the betting segment. In short, the company welcomes insertion into this new field, even in order to have a greater range of internal possibilities.
For Etiene Felisatti, operations manager, entering the betting world is important, as having the opportunity to offer the best of Suprema and all the game possibilities is a differential that not all bets can make. "We have been working with poker for a few years now, and in 2022 we decided to expand our products, as we are passionate about games", he said.
Felisatti talks about Suprema's success and how much he wants to grow in this market in an incisive way. "We are market leaders in everything we do. With bet, it will be no different. We want to establish ourselves among the biggest Brazilian bets", he said.
Mateus Lemos, managing partner of BBM, understands that it is an important step to close with a partner that has a broad vision of the business. "It is a client that manages to identify the most diverse possibilities for growth and we are anxious to contribute as much as possible", he celebrated.
About Supreme Bet
Suprema Bet is the leading sports betting operator in the region. Suprema, as it is also known in Poker, offers thousands of possibilities for entry into sports betting worldwide, in addition to a wide entry of the best casino games, whether live or events that do not need an instant mediator.
Chat da Suprema, unlike other sites, offers 24-hour high-level support in the best possible way to its users. In this way, it has become a reliable and safe platform for its customers to play responsibly as often as they want. Suprema is licensed and regulated by the Licensing Authority of Curacao.
About BB Marketing
BB Marketing, better known as BBM, is a specialized agency for serving the most diverse sports betting sites on the market. With the mission of boosting the experience of its customers, BBM has a qualified team to understand the needs presented.
BBM delivers the most diverse services to its clients, such as: paid traffic (which its objective is to increase the attraction of new users for its clients), sports marketing management (attracting sponsorship management in sports), influencers (attracting influencers, according to brand objectives) and management of social networks (creation of advertising pieces to feed them).