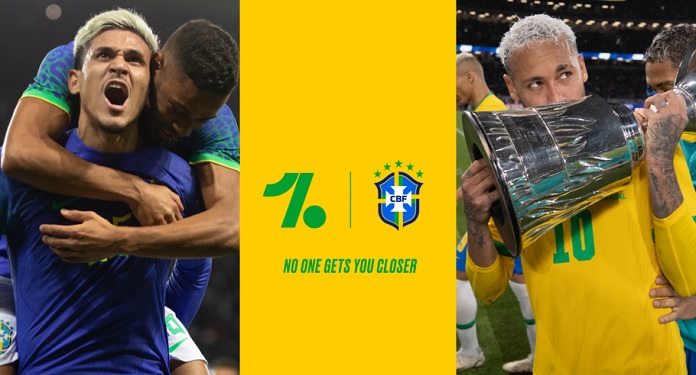 OneFootball, the largest football media platform in the world, and the Brazilian Football Confederation (CBF) have expanded their worldwide partnership, which now includes premium video content for fans of the Brazilian national team across the planet.
In 2021, CBF became the first national federation to join the platform's partner network, providing original editorial content from the official website to users of the OneFootbal app and website.
With the World Cup running, CBF includes massive video content for OneFootball platforms – including the company's recently launched connected TV app, OneFootball TV, so users can watch clips of the Canarinho team on the big screen of your TVs.
In addition, the CBF will provide behind-the-scenes videos and interviews with the national team's stars, giving fans an exclusive view of the evolution of the teams participating in the World Cup, where Brazil is favorite to be crowned six times champion. In addition to the men's national team, the content also includes the women's national team and the youth teams.
The videos will be shown on the OneFootball app, website and OneFootball TV, while also being made available on the OneFootball publisher network of over 250 premium publishers through the OneFootball Player. "The partnership with OneFootball makes us proud and reinforces our commitment to offer content to the fans of the Selection all over the world", said Ednaldo Rodrigues, president of the CBF.
Tom Mueller, Vice President of Partnerships at OneFootball, said: "As the world prepares for the World Cup, it is an honor to expand our partnership with the CBF. Our fans can now enjoy video content from the most famous national football team in the world, but also from elite teams across all age groups and in women's football."
"This partnership helps OneFootball deliver on our promise to bring fans closer than anyone else, and our partners closer to their fans. By helping the CBF reach an even wider global audience, we can also bring fans closer to some of the biggest teams in world football," he added.
About OneFootball
OneFootball is the only company to offer unique in-app live football matches for free and pay-per-view, while native integration of the OneFootball network of over 150 clubs, leagues, federations, players, as well as hundreds of creators independent content outlets, and broadcasters add an estimated 200,000 pieces of editorial and video content per month.
Founded in 2008, the company has a global reach – with headquarters in Berlin and regional hubs in London, Singapore and Lisbon – and is deeply embedded in the football ecosystem, with shareholders that include top clubs such as Arsenal, Barcelona, ​​Bayern Munich, Chelsea, Juventus, Liverpool, Manchester City, Paris Saint-Germain, Real Madrid, Olympique de Marseille, Borussia Dortmund and Tottenham Hotspur. OneFootball is available in 12 languages ​​and is the highest rated sports app in the world.