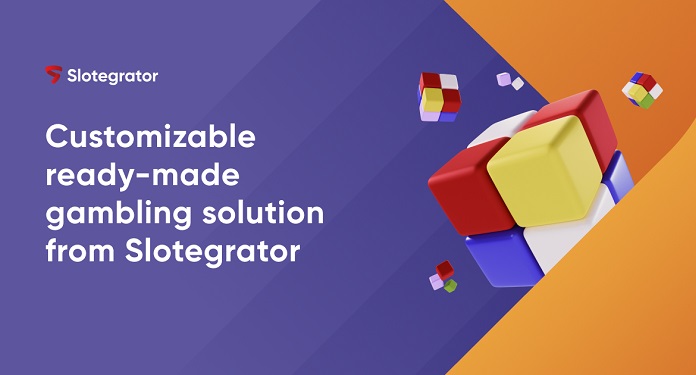 Slotegrator, a leading provider of software and API products for the iGaming industry, recently launched its turnkey online casino platform. Among the new and improved modules of the platform is the Casino Builder feature, which allows operators to quickly, easily and independently customize the frontend of their casinos.
Casino Builder's simple tools allow operators to make various changes to their betting site. In the back office of the platform, operators will find everything they need to build their website lobby — they can easily design the lobby layout, choosing how to display providers, payment methods, text, banners, etc. There is an endless list of front-end elements that operators can work with to fulfill their vision and address the challenges they face.
Operators can also use a set of ready-made casino frontend presets to deploy the project in just 3 clicks. These models are developed based on a careful analysis of a typical user's behavior on an online casino site, as well as the visual preferences of the betting community.
How it works
1. The operator receives the platform API with game control and content system and payment solutions already integrated.
2. Slotegrator installs the Casino Builder module to create an individual site interface.
3. The operator chooses one of the available visual templates or develops his own design.
4. The operator configures the interface independently, choosing templates and filling their site with content.
5. The operator manages the frontend, making adjustments or expanding the functionality of their online casino at any time without having to contact the software developer.
What does Casino Builder do for operators?
In short, Casino Builder offers an ease and efficiency that frees up operators to focus more on strategy and less on troubleshooting.
Having full control of a project eliminates the possibility of miscommunication. Instead of trying to convey an idea to a development team, waiting for them to execute it, and then finding they somehow got the wrong idea, the operator simply implements his own vision. The operator has full control, down to the smallest details: he can change colors, fonts and various other design elements, saving time and money on platform independent design development and ensuring the correct result.
Casino Builder offers a set of easy-to-use tools so operators can work comfortably and efficiently on the front end of their website, regardless of their level of computer literacy. They can manage localization settings, create new web pages, contact forms, and other web elements, integrate additional extensions, and more — all without having to pass the idea through a development team.
Slotegrator's turnkey solution offers the ability to run an unlimited number of websites, allowing operators to tackle diverse markets around the world. Casino Builder has a single admin panel to manage multiple projects, each of which can be customized to suit the target market. This flexibility ensures that gamers everywhere receive a localized gaming experience.
Casino Builder is just one of the many modules that make Slotegrator's turnkey platform such a powerful and effective solution for running an online casino. Operators can also count on in-game content, payment tools, bonus module and much more.
Slotegrator's technical team will continue to improve the new platform, especially the Casino Builder module. The platform works on a unified system: online casino operators use a single version of the product and all the company's customers have access to updates at the same time.
About Slotegrator
Since 2012, Slotegrator has been one of the leading providers of software and business solutions in the iGaming industry for online casino and sports betting operators.
The company's main focus is software development and support for online casino platforms, as well as the integration of gaming content and payment systems.
The company works with licensed game developers and offers a vast portfolio of casino content: slot machines, live casino games, poker, virtual sports, table games, lotteries, casual games and betting data feeds.
Slotegrator also provides consulting services in the acquisition of gaming licenses and business incorporation.