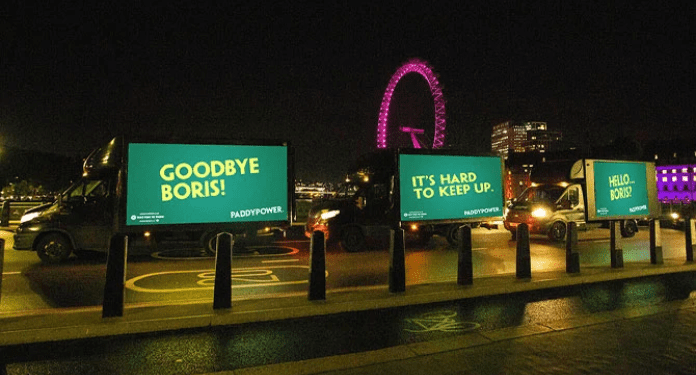 After the October 20 events in Westminster, which saw Prime Minister Liz Truss resign after a record 45-day term, Paddy Power mobilized its advertising vehicles to take advantage of the situation.
Advertising trucks displayed digital messages as they drove around the capital, which read "Goodbye Boris", "It's hard to keep up" and "Hello… Boris?!". The messages made by Paddy Power reflected the chances of former prime minister Boris Johnson making an unlikely return to Downing Street, just weeks after being forced to resign following a series of political scandals.
Johnson currently has a 5 to 2 odds to be the next Prime Minister of Great Britain and Northern Ireland – odds started at 14 to 1 and dropped on the night of 20 October.
However, despite the increasing odds of Johnson being chosen by the Conservative Party as its next leader (again), former Chancellor Rishi Sunak remains the favorite to become the third Prime Minister of 2022, according to Paddy odds. Power.
Meanwhile, the rest of the political camp is made up of Penny Mordaunt, a leading figure in the Conservative Party, and Defense Secretary Ben Wallace. Mordant is currently at 7 to 2, while Wallace is currently at 33 to 1.
The leadership change process is expected to complete on Friday, October 27th, with 100 nominations needed to enter the race to be Prime Minister – which means, in all reality, that only three people could have a chance to run for office.
About Paddy Power
Paddy Power is a betting company that emerged from the merger of the stores of three Irish bookmakers: Stewart Kenny, David Power and John Corcoran in 1988. The company's headquarters are located in Dublin, Ireland.
On the internet, the company offers sports betting, poker, bingo and classic online casino titles. Remembering that the company merged – on February 2, 2016 – with Betfair to create Paddy Power Betfair, currently known as Flutter Entertainment.