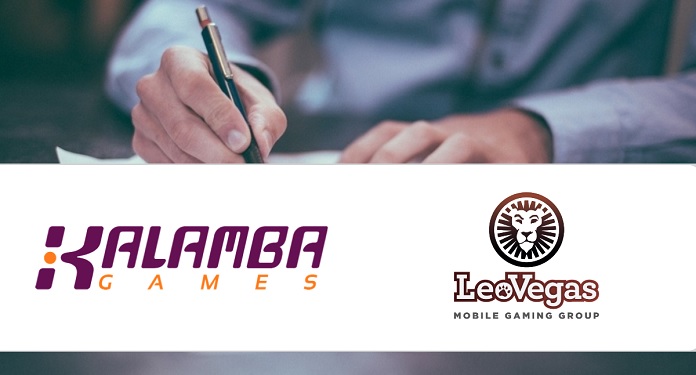 Kalamba Games has signed a partnership to deliver its portfolio of high quality slot machine titles to top tier operator LeoVegas across multiple markets.
Emerging as a major boost to Kalamba Games' reach in the regulated regions of Europe, LeoVegas' main market is the Nordic countries, although it also has a strong presence in the UK. The operator enjoys a growing presence in other countries on the continent, as well as in Latin America.
As a result of the deal, Kalamba Games will deliver gamer favorite titles such as Blazing Bull and the popular Joker game series, along with the recent hit releases Super Size Atlas and Legend of Senteng.
Kalamba has become one of the fastest growing content and technology providers in the industry in recent years, developing its own RGS, Bullseye, analytics platform, Stargazer and a range of promotional tools in addition to its commercially successful slot launches.
Partnership with LeoVegas represents another step in Kalamba's expansion
The partnership with LeoVegas, a multi-award winning operator, represents the latest step in Kalamba's expansion strategy as it establishes itself in key territories such as Italy, Portugal, Spain, Sweden and the Netherlands. The company continues to introduce its content and services to an increasing number of customers in regulated markets.
Andrew Crosby, Chief Commercial Officer at Kalamba Games, said: "Delivering our slot titles to a prestigious and well-known casino like LeoVegas is a testament to our rapid growth in recent years."
Crosby added: "Its reputation as the mobile-focused casino for players around the world represents a real growth opportunity for our games to be played by many new customers. We are pleased with this new partnership and excited to see the reception our games receive from LeoVegas customers."
Steve Cutler, CEO and co-founder of Kalamba Games, also said: "Offering gamers the widest range of high-quality entertainment and cutting-edge technology is a key objective within our growth strategy at Kalamba. This latest partnership will help fulfill and exceed that ambition as we move into the next phase of Kalamba's journey."