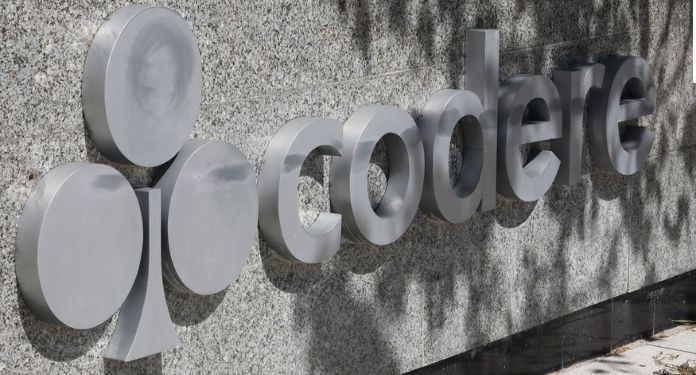 Codere Online, a leading online gambling and betting operator in Latin America, has released its financial results for the first quarter ended March 31, 2022. See below for key financial and operational metrics for the period: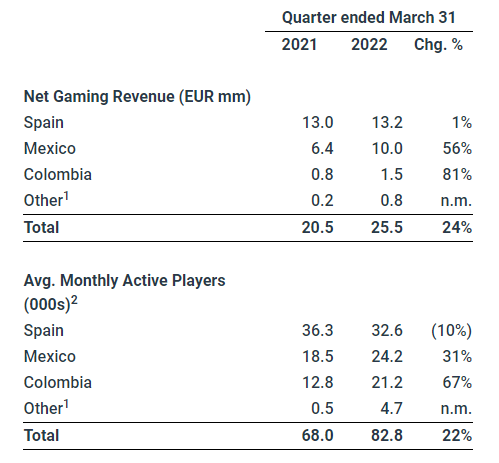 Moshe Edree, CEO of Codere Online, said: "The business is off to a good start, with a 24% increase in net gaming revenue in the first quarter, on the back of very strong performance in Mexico and solid results in Spain, where revenue game play is above where it was before the significant marketing restrictions implemented in May of last year."
"Our customer base has continued to grow, to nearly 83,000 average monthly active customers, 22% up on Q1 2021 and we believe the foundation is now in place for us to meet our operational and financial targets for the year."
Edree further stated, "In the first quarter, we put in place a long-term incentive plan, which we believe will not only further align the interests of senior management and directors with those of Codere Online and its shareholders, but also strengthen retention and the long-term motivation of senior management and directors".
Oscar Iglesias, CFO of Codere Online stated: "Business continued well in the first quarter of the year, with revenue growth in line with our expectations. We expect revenue growth to accelerate in the coming quarters and a significant increase in second quarter results semester".
"We have a healthy balance sheet with more than $100m of cash on hand that we will continue to use to drive growth in all of our Latin American markets," added Iglesias.
The long-term incentive plan for senior management and directors in effect follows the following points:
It was approved by the board and shareholders on February 2 and March 3, respectively;
The plan is for 5 years, including restricted stock units, stock options and deferred payment rights;
The plan will have share-based premiums to initial participants equal to approximately 4% of the outstanding shares outstanding.
Check below, the comparison between net and gross revenue: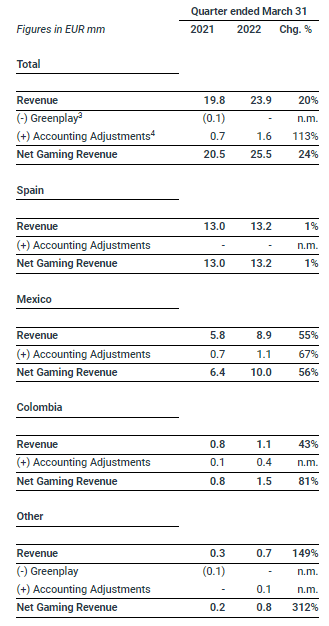 About Codere Online
Codere Online refers collectively to Codere Online Luxembourg, S.A. and its subsidiaries. It was launched in 2014 as part of the renowned casino operator Codere Group.
It offers online sports betting and online casino through its state-of-the-art website and mobile app. Currently, Codere operates in its main markets of Spain, Italy, Mexico, Colombia, Panama and the City of Buenos Aires (Argentina).
Codere's online business is complemented by Codere Group's physical presence across Latin America, forming the foundation of the region's leading omnichannel gambling and casino presence.