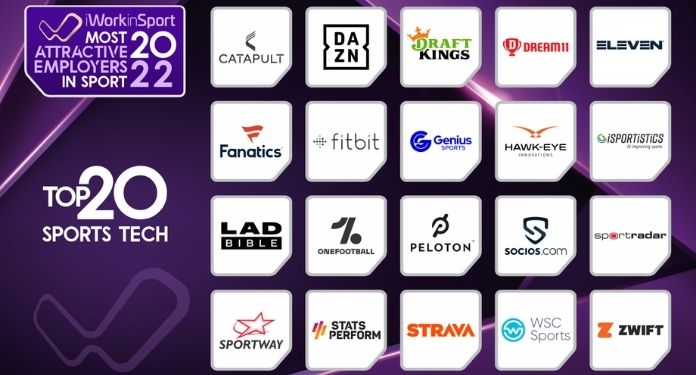 A list of the 20 most attractive companies in Sports Technology for those who already work or want to work in the sector was revealed by iWorkinSport.
The second edition of the study conducted by the Swiss-based company surveyed more than 1,600 people from all continents, most of whom already work in the field, and asked them a simple question: "If you could choose to work anywhere in the sports sector, , where would it be?"
At the beginning, respondents voted for ten categories, and in the end, they indicated the most chosen, in general – the "Employer of Dreams". This is the first time that 'Sports Tech' has been included as a category in the survey.
In the Sports Tech category, the 20 most voted organizations were, in alphabetical order, as follows:
Catapult
DAZN
DraftKings
Dream 11
Eleven / MyCujoo
Fanatics
Fit Bit
Genius Sports
Hawk-Eye
iSportistics
LadBible
OneFootball
PelotonSocios
Sportway
Stats Perform
Strava
WSC Sports
Zwift
The 'iWorkinSport Most Attractive Employers 2022' final rankings will be announced at an awards ceremony at the Olympic Museum in Lausanne on May 19, at a VIP dinner offered to recruiters and academic partners of the iWorkinSport Job Fair, which will take place on the next in Lausanne.
The report will also feature analysis and interviews of labor market trends. iWorkinSport will also publish the top 20 workplaces in the sports industry in each category traced in the survey.
About 'The Most Attractive Employers in Sport 2022'
The survey was conducted from December 20, 2021 to March 15, 2022 and had over 1,600 respondents from 111 countries, with 90% having at least a bachelor's degree and 63% a graduate degree, while 79% already work in the sector. sporty. Detailed demographics will be available in the report.
About iWorkinSport
iWorkinSport is a Global Hub that has everything about sports career, recruitment and education.
The company connects and provides solutions and opportunities to all those interested in the field of sports career development – ​​whether candidates, employers, employees, students, academic programs, HR professionals, recruitment agencies, consultants, career coaches, etc. It also produces, aggregates and curates content and knowledge relevant to a sports career.