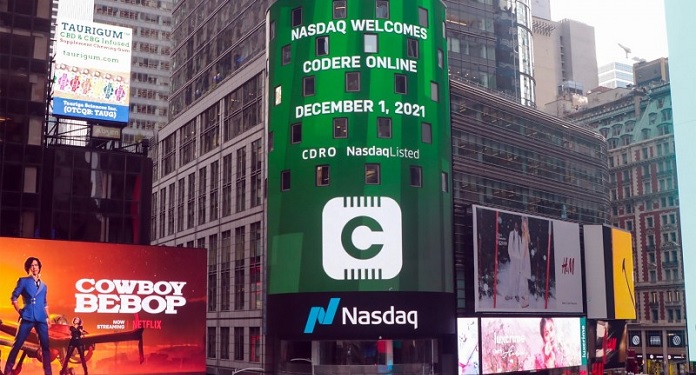 With the iconic bell ringing of the Nasdaq Tower in Times Square, Codere Online celebrated its US stock market debut last Wednesday, December 1st, in a live-streamed virtual event.
Codere Online CEO Moshe Edree was in charge of ringing the virtual bell at the market opening at Nasdaq Tower, in New York, accompanied by employees and collaborators. As a result, Codere Online Luxembourg SA's common shares and subscription warrants are now traded under the codes CDRO and CDROW, respectively.
"We have an ambitious plan to expand our online betting and gaming business in Latin America, and the closing of this transaction gives us the resources to continue. We are very excited to have been invited to ring the opening bell at Nasdaq, in an event that highlights months of hard work and crystallizes the strength of our project," explained Edree.
Vicente Di Loreto, CEO of the Codere Group, which holds a majority stake in Codere Online, said: "The closing of this transaction, following the recent financial restructuring of the Codere Group, will provide Codere Online with funds to consolidate its great growth potential , mainly in the Latin American market".
Codere Online completed its merger with SPAC DD3 Acquisition Corp. II (DD3) on November 30, after approval of the transaction by the General Shareholders' Meeting on November 18 and compliance with the closing conditions.
As a result of the merger, Codere Online received a gross contribution of approximately $116 million (approximately $103 million net of transaction expenses), subject to the terms and conditions of the merger, which will be used primarily in marketing investments, growth business, technological development and optimization of the betting platform.
Composition of Codere Online's Board of Directors
With the appointment of Patrick Ramsey as non-executive chairman, Codere Online completed the composition of its Board of Directors, comprised of four members appointed by the Codere Group, including Moshe Edree, CEO of Codere Online; Oscar Iglesias, CFO of Codere Online; Alejandro Rodino, Director of Strategy and Corporate Areas at Grupo Codere; and Laurent Teitgen, as an independent director.
In addition, it includes two independent directors recommended by the DD3 Sponsor Group, LLC: Martin M. Werner, President and CEO of DD3 Capital Partners, and Daniel Valdez, Portfolio Director of MG Capital.