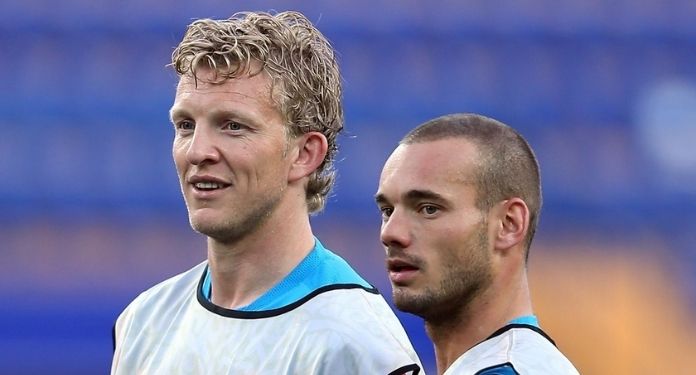 Dirk Kuyt and Wesley Sneijder were questioned as witnesses regarding illegal betting linked to a criminal organization led by Piet S. of The Hague.
The Dutch duo represented their home country in the 2010 World Cup final, with Kuyt also having made more than 200 Premier League games while playing for Liverpool.
Police say they have information that Kuyt and Sneijder have bet on the now-defunct 'Edobet' website, which the Dutch prosecutor's office claims was created by Freddy S, Piet's son.
Former football players were questioned by police in early 2021. Sneijder made his statement in January with Kuyt following the process in February.
Player involvement with betting
Authorities were alerted to their involvement in this case after messages bearing their names were discovered on EncroChat, an encrypted communications network that was primarily used by criminal organizations prior to their infiltration during a joint European investigation.
The messages concern the gambling habits of both players, discussing Sneijder's failure to pay his debts and threatening his family.
According to the Dutch news agency NOS, the messages stated: "We will no longer ask for money, they just have to be 'kicked' to the hospital first. It can also be a woman, as long as it is someone from that family. Your mother, aunt, grandma, I don't care who".
Reports claim that Sneijder denied playing at Edobet, but according to the AD, he was approached by people "who said he was in debt".
Wesley Sneijder was a midfielder and was recognized as a player with great technique, vision and good finishing, had a brilliant 2009–10 season, when he won the triple crown (UEFA Champions League, Italian Championship and Italian Cup ) right in his first season on Internazionale.
He was the main protagonist of the Dutch National Team finalists of the 2010 FIFA World Cup. He was one of the top scorers in the tournament with five goals scored, alongside David Villa, from Spain, Diego Forlán, from Uruguay, and Thomas Müller, from Germany. Sneijder was also chosen as the second best player at the World Cup, only behind Forlán.