NBA star Stephen Curry is yet another global star to join the cryptoactive market through non-fungible tokens (NFTs). Unlike other celebrities who created their own tokens, Curry chose to enter as a buyer.
The basketball player acquired for 55 ether, around 180 thousand dollars or around 1 million reais, an NFT from the Bored Ape Yatch Club platform, a set of a thousand drawings converted into tokens that circulate on the Ethereum network.
Bored Apes is characterized by being a series of similar designs, with the same theme, in which elements such as tones, accessories and other details make each one rare and, consequently, reach greater or lesser value.
The NFT purchased by Curry, the Ape 7990, who has already turned his profile picture on a social network, is extremely rare. The wool suit worn by the monkey in cryptoart appears in only 1% of the NFTs in the collection, while the zombie eyes in just 3% and the bluish fur in 5%.
Thus, Bored Ape Yatch Club is considered one of the most prestigious collections in the NFTs market, having earned, throughout its history, approximately 400 million dollars in negotiations.
The 'Apes' were sold, on average, for 25 ether, that is, 80 thousand dollars. However, others have already been sold for very high prices, such as the Ape 8135 which reached the value of 1.62 million dollars recently. This NFT segment has grown a lot this year, with numerous platforms moving millions of dollars in operations.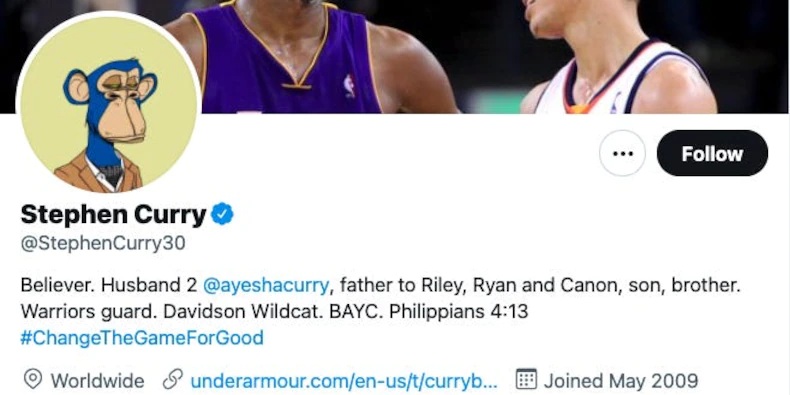 Large world market for NFTs
Today, NFTs can be found in numerous areas, such as blockchain games and sporting assets such as Sorare, football, and NBA Top Shop, basketball. The NBA Top Shot, in turn, broke a record when the biggest deal in its history took place.
Marketed for $230,000, or more than 1.15 million reais, a digital LeBron James bid card has become the highest brand on the platform. These cards, called moments, by LeBron are in the top four of the most expensive in history.
The leader, marketed at the end of last week, presents a bid for the final of the 2020 season, in which he, playing for the Los Angeles Lakers, was crowned champion. The "moment" sold has a circulation of only 79 units, and the one that beat the historical mark is the number 23, shirt of LeBron.