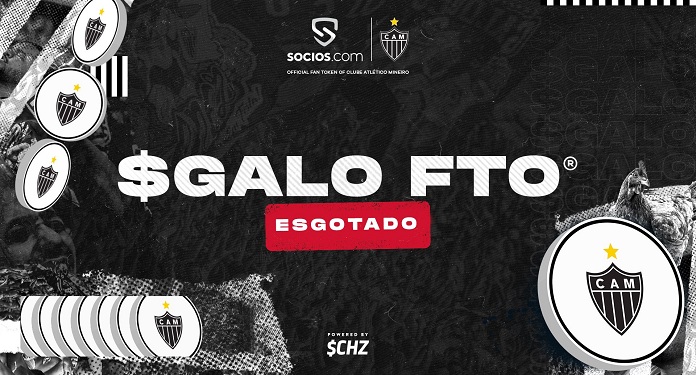 Atlético-MG ended the sale of fan tokens in the cryptocurrency market, achieving a very expressive feat. The team from Minas Gerais exceeded the amount raised by Barcelona, ​​from Spain. The sale took place through the Socios.com platform, the same one adopted by several football teams across the planet in recent months.
The platform's partner list grows frequently, but it already includes Juventus, Atletico Madrid, PSG, Manchester City, Everton, Milan, Valencia, Arsenal, Corinthians, some selections and teams in cricket, Formula 1, basketball and electronic sports.
Atletico-MG's expressive result in the first sale of fan tokens
Last week, Galo registered the sale of 850,000 tokens, for the value of two dollars each (about 10 reais per unit at the current price). According to LiveCoins, the process was divided into two lots, one containing 600K $ROOSTER and the other 250K.
The result was widely celebrated by Atlético-MG, as it managed to exhaust two FTOs. Something unprecedented for the Socios platform until then. According to the director of innovation at Galo, Felipe Ribbe, the numbers obtained by the football club are quite significant, surpassing globally consolidated brands such as Barcelona, ​​in terms of sales volume.
"Wordless! Many thanks to everyone who bought $ROOSTER. There were 850k fan tokens sold. The first 600k in 8 minutes. Our FTO was the sixth largest in history in terms of volume of money, US$1.7 million, tied with Manchester City and ahead of Barcelona, ​​for example", said the director.
It is important to note that Atlético-MG has the right to pocket half the value of the tokens, which totaled R$ 8.5 million. The value of cryptocurrencies, which should be listed in brokers soon, may fluctuate depending on the market's relationship with the club.
Galo's partnership with the Socios.com platform
The agreement between the Brazilian club and Socios, an engagement and rewards platform for fans that issues Fan Tokens, was announced at the beginning of June. The action, also linked to Atlético's fan partner program, is intended to further strengthen the relationship between Galo and his fans around the world.