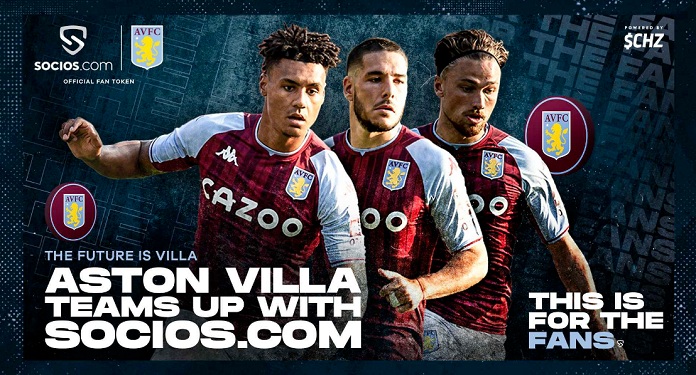 Aston Villa, in partnership with Chiliz, one of the leading global blockchain providers for the sports and entertainment industry, has announced that it will launch the $AVL Fan Token on the Socios platform.
Fan Tokens are collectible digital assets that will create new experiences for club supporters around the world, allowing them to become part of a vibrant digital community.
The $AVL Fan Token will be released soon, with all Aston Villa members and new season ticket holders having the option to receive the cryptoactives for a limited time. In addition, there will be numerous platform engagement opportunities for English club token holders.
Nicola Ibbetson, Commercial Director of Aston Villa, said: "We are excited to announce this partnership with Socios that will allow our global fan base more opportunities to interact with the club and bring them even closer to the team they love. Socios are leading the way in blockchain in the sports industry."
Ibbetson added that "this is an innovative way for all of our fans to get involved with the club, whether they are local or international. We look forward to working with Socios to create and develop interactive opportunities to bring the club closer to our fans around the world."
CEO of Socios platform celebrates partnerships with Premier League clubs
Alexandre Dreyfus, CEO of Chiliz and Socios platform, also spoke about the new partnership: "Aston Villa, a club with great tradition, understands the huge potential of global fan involvement and is now ready to take advantage of the chances with the launching $ AVL Fan Tokens on our platform".
Dreyfus continued: "Through Fan Tokens, Villa fans around the world will be able to join a global community brought together by their passion for the club, where they can enjoy influence, exclusive content, games and access to a host of rewards." .
The CEO of Chiliz and the Socios platform concluded: "A very significant proportion of Premier League clubs have now joined the mission of turning passive fans into active participants. We are witnessing an exciting new era of fan involvement on a massive scale for the best clubs in England and I can't wait to get started."