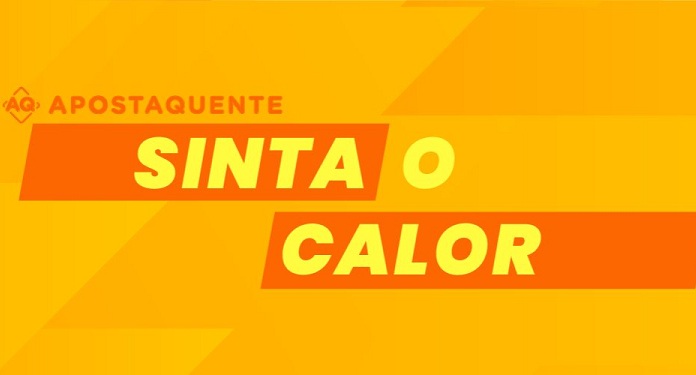 The online gaming and betting industry is increasingly present in the daily lives of Brazilians, famous for their fervent passion for football. That's why the Apostaquente platform seeks to present itself to the national public with a wide range of online games, sports betting, a beneficial affiliate program and a slightly different approach.
This cool style of the betting site is already manifested in the choice of the official ambassador. Nothing more and nothing less than the famous Kid Bengala, a nationally recognized personality linked to the adult industry. This funniest tone has everything to do with the striking name of the platform.
"We are very happy with the launch of Apostaquente, which is coming to heat up the sports betting scene in Brazil. Our aim, in addition to providing an incomparable experience, is to bring a very fun and spicy approach to the daily lives of Brazilian players", declared Apostaquente's Country Manager.
He added: "Our website, Apostaquente.com, is optimized for mobile and is 100% focused on the national audience. That's why we combine sports betting and casino products with a unique Brazilian touch of being, offering players a friendly, localized and tropical environment."
Unique offer and funny promotions at Apostaquente
The platform arrives in the country with the mission of offering the best and boldest experience for Brazilian players. Since the house stands out for having a fun and spicy approach.
Apostaquente has a wide selection of sports betting with attractive odds, covering the main sporting events in Brazil and the world. In addition, your team of traders provides the best odds. Thus, players can place their bets on basketball, tennis, soccer, volleyball, MMA, among other modalities.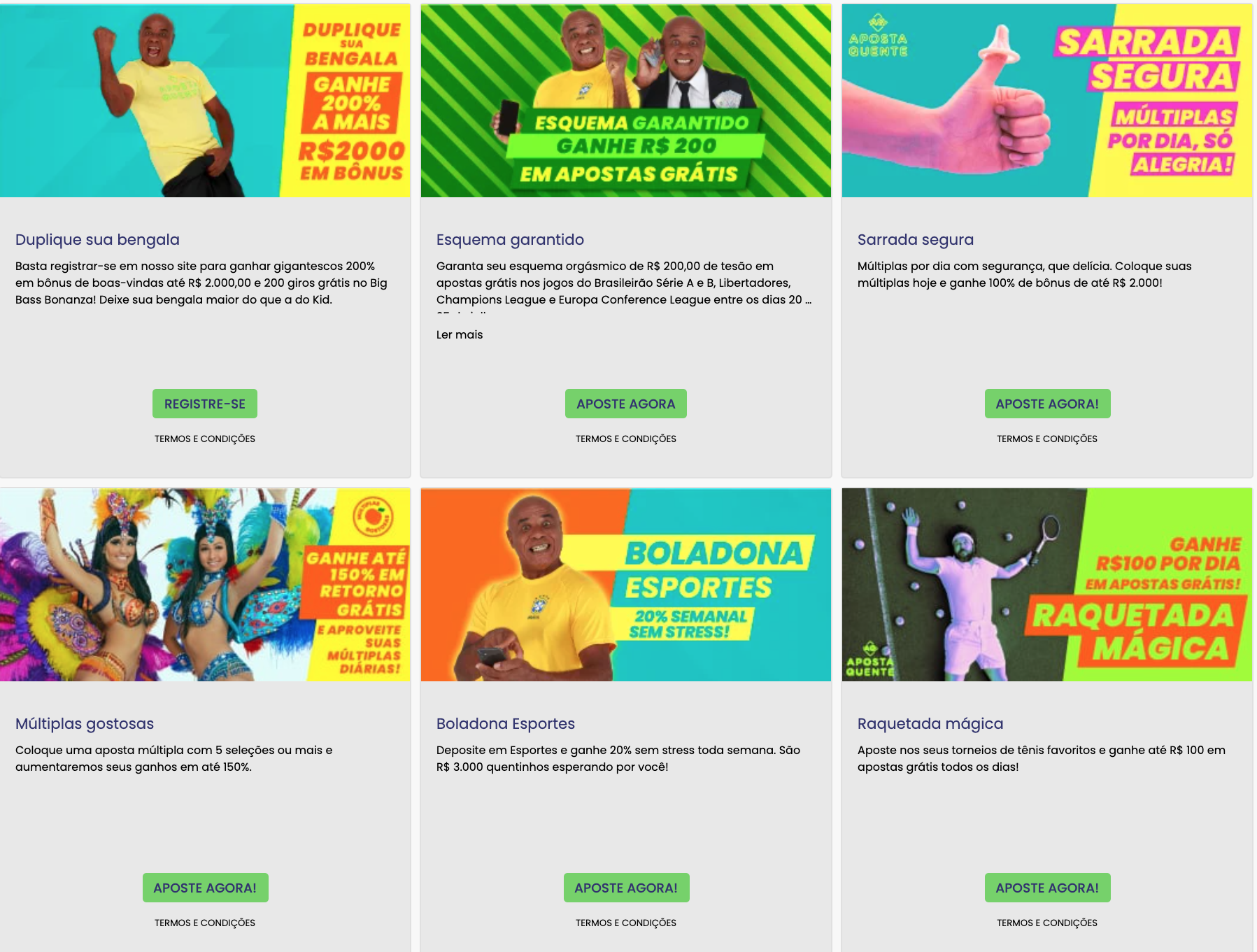 The site also features a very diverse portfolio of online casino games, including live casino, table games, scratch cards, video slots and more. And the platform's promotions and bonuses will definitely amaze players.
The promotions are the boldest in the national market. In addition to distributing sensational prizes, Apostaquente ensures that the experience is good-humored and very happy. One of the promotions is "Double your Bengala", where you just register on the site to receive 200% in bonuses of up to R$2,000 and 200 free spins.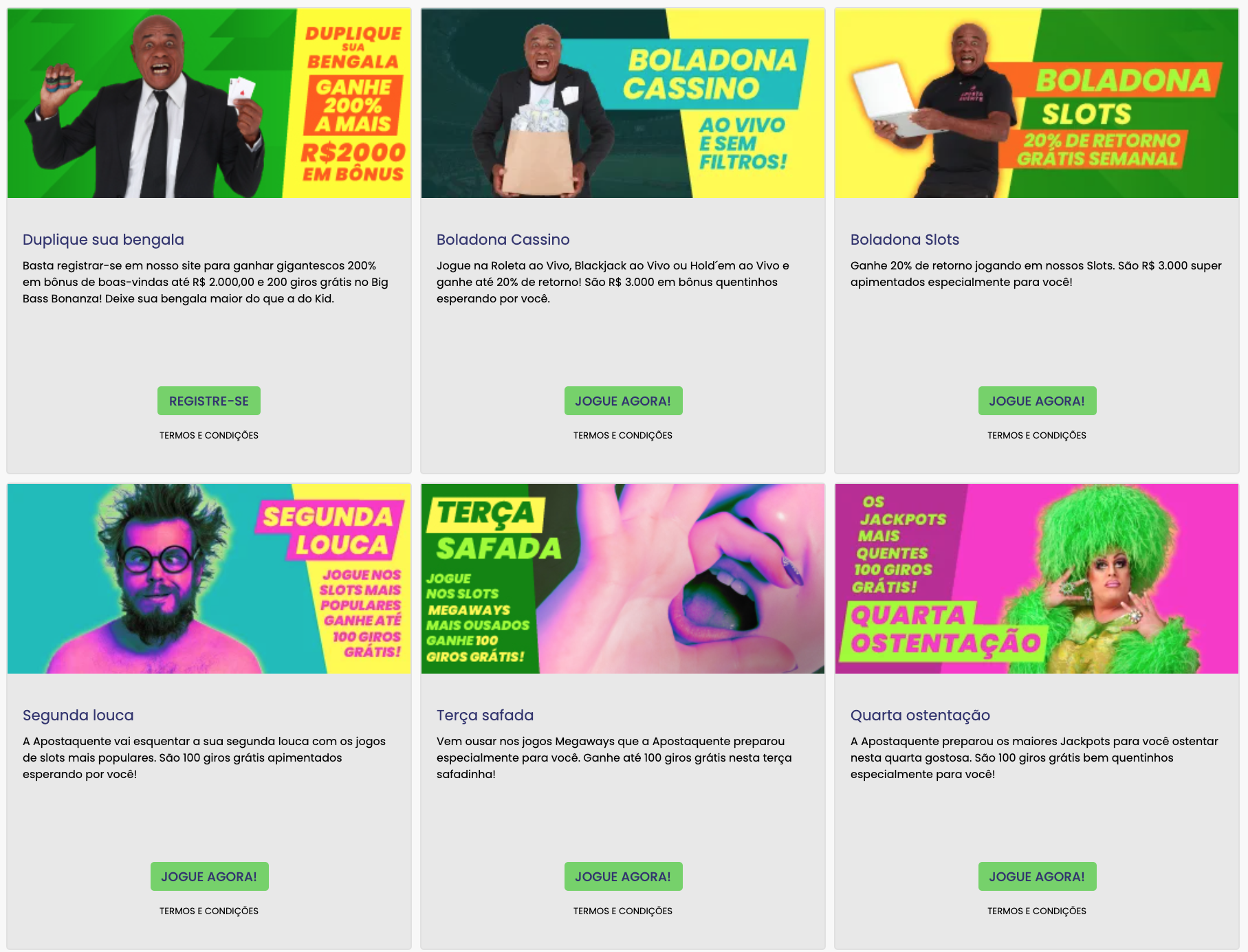 Another fun promotion is "Boladona Casino", where the player can bet on Live Roulette, Live Blackjack or Live Hold'em, receiving 20% ​​back and R$3,000 bonus. Remembering that Betting is licensed and regulated by the Malta Gaming Authority (MGA).