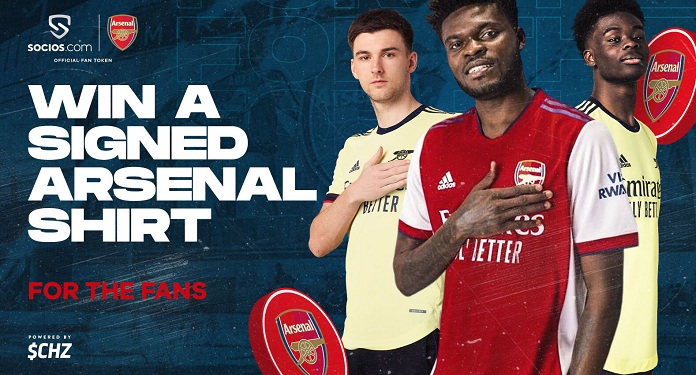 Arsenal, from England, closed an agreement to launch a token for its fans in partnership with the Socios.com platform. The token will give fans the possibility to get involved in decisions and access special content from the English club.
As a result of this commercial arrangement, the platform will become the virtual meeting point for Arsenal fans. The confirmation took place this Monday, 19, via an official statement from Chiliz, the blockchain of Socios.com, on social networks.
With tokens for fans, the football club will provide "numerous opportunities for engagement", encompassing the "chance to influence the club in a series of interactive surveys on a variety of decisions each season".
The official release date for the tokens for Arsenal fans has not yet been revealed, but the platform stressed that the products should be available soon. However, team fans who are already registered for 'My Arsenal Rewards', a fan-focused rewards program, have the possibility to win a token for free.
"We are excited to launch this partnership with Socios.com, which will bring our huge global fan base even closer to the club. Socios.com is leading the way in the blockchain in the sports industry, as we've seen in its relationships with other top European clubs," said Peter Silverstone, Arsenal's commercial director.
Socios.com platform is establishing itself as an important partner of teams and leagues
Socios.com is establishing itself as an engagement option for clubs and sports leagues around the world. In May, three Formula 1 teams signed similar agreements. Soon after, the Ultimate Fighting Championship, better known as the UFC, also reported that it was preparing to release its Fan Token.
Recently, the Argentine Football Federation (AFA) strengthened its relationship with the company, making the Argentine national team the first national team to have its own token, in June.
And, the two organizations expanded this partnership with the acquisition of the naming rights of the first division of local football. During the 2021 / 2022 season, the championship will be called "Torneo Socios.com". The dispute, involving Argentine clubs, started last Friday, 16th.