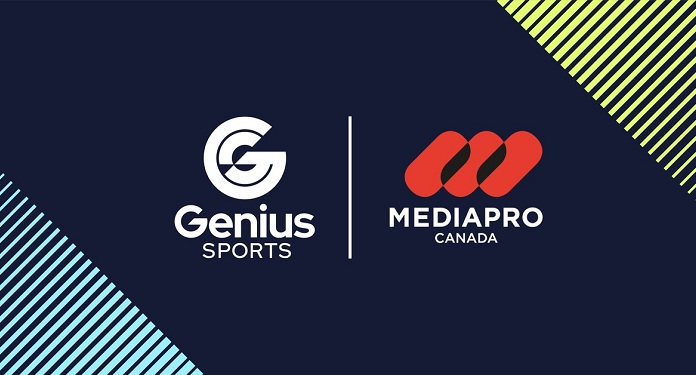 Genius Sports Limited, a data and technology company that connects sports, betting and media, has just announced a new strategic partnership with MEDIAPRO Canada, a leading broadcast, rights distribution and production services company.
The agreement will help grow the market for Canadian football locally and internationally through Genius' leading official data, streaming and marketing solutions.
In 2019, MEDIAPRO Canada entered into a 10-year agreement with Canadian Soccer Business (CSB), a company that represents all commercial interests of the Canadian Premier League (CPL) and Canada Soccer. Since then, MEDIAPRO Canada has been tasked with promoting the sport, including managing the global and national media rights to all CPL and Canadian championship games.
OneSoccer, MEDIAPRO Canada's dedicated football streaming platform, will now integrate Genius Sports data and live content into its fan experience. Genius' technology solution will also help expand MEDIAPRO Canada's audience by boosting OneSoccer subscriptions with personalized promotions and offers.
Bookmakers will be able to access game data due to Genius Sports partnership
In addition, Genius Sports has acquired the exclusive worldwide rights to distribute live video of all CPL and Canadian Championship matches, which will help reach new football fans and increase game engagement. Bookmakers will also be able to access Canadian football data rights thanks to Genius' partnership with the CSB.
Oscar López, CEO of MEDIAPRO Canada, said: "We are delighted to seal this agreement with Genius Sports, one of the leading data and technology companies on the sports media scene."
López added: "We are confident that Genius will help elevate the value of our digital assets and extend the reach of our brands into new markets. The partnership also reinforces our commitment to transparency at a time when Canadian football reaches new heights on the national and international scene."
Mark Locke, CEO of Genius Sports, added: "The convergence of official data, betting, streaming and marketing is rapidly changing the sporting landscape in North America."
Locke concluded: "Our technology is driving this convergence, and as Canada is embracing single event sports betting, we are proud to have partnered with MEDIAPRO Canada to provide fans with unique experiences and grow football Canadian".