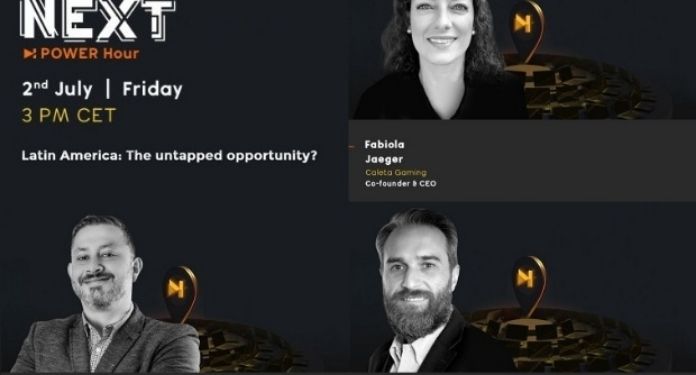 This Friday, the 2nd, iGaming NEXT POWER Hour will take place virtually. The event is described as a brief, compact and informative digital gathering aimed at bringing the iGaming industry together for a quick update on what's happening in the industry worldwide.
In addition, iGaming NEXT POWER Hour will feature some of the brightest and most prestigious minds in the industry, who will share their insights with attendees on a dedicated platform for digital conferencing with a highly immersive format. The audience will be able to contribute to the debates by submitting questions and interacting with each other.
In all, the meeting will have four panels. The second debate will focus on the Latin American market and the great growth potential. Entitled 'Latin America: the unexplored opportunity?', the conversation should last about 25 minutes and include Fernando Garita (Betcris Business Development Head), Hugo Baungartner (Caleta Gaming Sales Director) and Fabiola Jaeger (Co- founder and CEO of Caleta Gaming).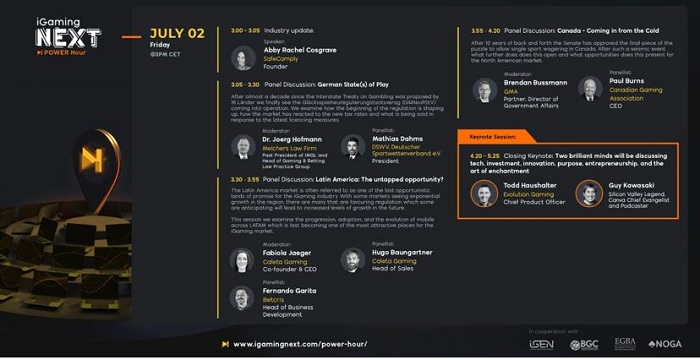 According to the official website of iGaming NEXT POWER Hour, the Latin American market is considered extremely promising, but it has not yet been properly explored by the iGaming industry. With some markets registering significant growth in the region, others are still debating the regulatory process, which could lead to even higher rates of business in the future.
Throughout the panel, guests will also assess the adoption and evolution of mobile devices across Latin America, which is fast becoming one of the most attractive places for the iGaming market.
Other topics that will be covered at iGaming NEXT POWER Hour
In addition to the debate on the Latin American market, the meeting will also address the situation of the gaming sector in Germany, Canada and will end with a conversation between Todd Haushalter (Product Director at Evolution Gaming) and Guy Kawasaki (Silicon Valley reference and podcaster) on technology, investment, innovation and entrepreneurship.