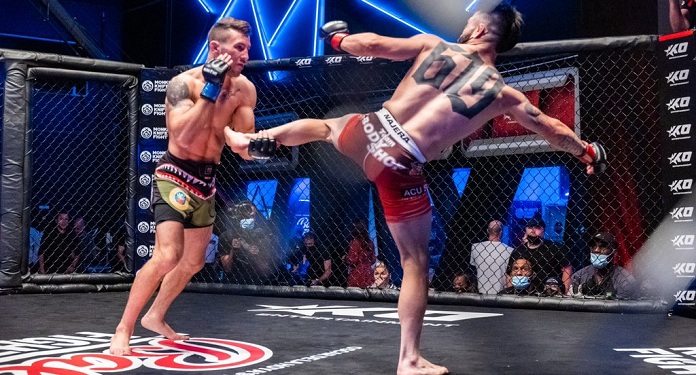 Betting and iGaming company, Bally's Corporation has entered into a partnership with KO Entertainment, a boxing promotion company linked to Golden Boy Promotions. This agreement, as Ballys notes, is intended to add "unrivaled innovation, objectivity and gamification to combat sports, transforming fan engagement".
The action was formalized when the two brands announced the broadcast of "Oscar de la Hoya's KO Entertainment Presents Bally's Fight Night", a new way to showcase boxing and MMA to the public, the first gamification 2.0 development for combat sports.
The event included five professional MMA fights and four other boxing matches in a video game-style presentation. Using sensors and a control panel with data, a wide variety of points, such as punch strength and hit combinations, were captured in real time.
Thanks to the science of sports, the data was displayed in an on-screen energy bar, similar to the bars shown in combat video games, in order to show the impact it had on the fighters.
By collecting and analyzing this data in future exhibitions, Bally's and KO Entertainment have emphasized that they can develop an even more rewarding and safer experience for competitors, while increasing transparency.
Bally's aims to improve gamification in fight broadcasts
With the intention of further improving the gamification of combat modes and the spectator experience, Bally's is planning to integrate 'Monkey Knife Fight', their fantasy sports platform into live broadcasts.
Soo Kim, Chairman of the Board of Directors of Bally's Corporation, said: "This partnership represents an extraordinary opportunity to bring together experts in games, media and combat sports to bring boxing and mixed martial arts a new perspective."
Kim added, "By integrating our innovative technology and interactive gaming platforms into combat sports, we will create new and transformative ways for audiences to engage with our live broadcasts."
Oscar de la Hoya, CEO of Golden Boy Promotions, stated: "We have the greatest respect for the history and tradition of boxing and mixed martial arts. By partnering with Bally's and working to develop this innovative product, we believe we can provide real-time, data-driven insights into the blow-by-blow action.
De la Hoya concluded: "And, we will create a level of transparency and objectivity that has never existed before. We will also provide an experience that is more easily understandable for the average viewer and, at the same time, more rewarding and safe for the fighters."