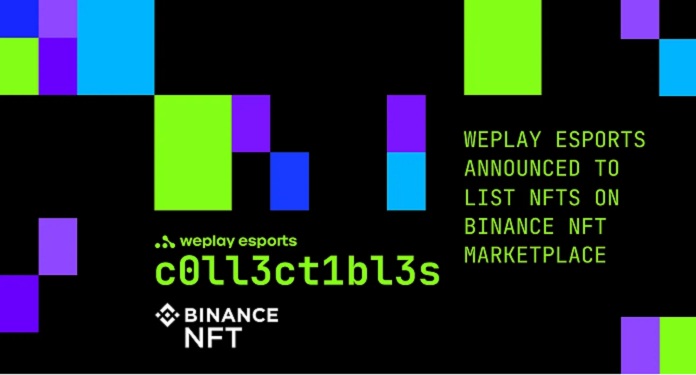 Binance, the world leader in the blockchain and cryptocurrency segment, and the media holding company WePlay Esports announced the launch of the 'Storyline' collection of WePlay Collectibles on the Binance NFT market. The tokens will be auctioned on the platform as part of the "100 Creators" campaign, scheduled to coincide with the launch of the Binance NFT marketplace.
From launch, WePlay Collectibles tokens will become part of WePlay Esports. As such, e-sports fans will be able to purchase this digital product associated with their favorite media holding tournaments in NFT format.
There are 3 types of tokens in the Storyline collection:
Logo Token: This is a token with a static or animated tournament logo;
Trophy Token: Has a souvenir image, also in static or animated format;
Story Token: It depicts the most memorable pieces collected over all the years that WePlay Esports has been organizing tournaments.
The logo and trophy tokens within the collection will arrive in Common, Rare and Ultimate versions.
WePlay assesses NFTs as an innovative way to connect eSports fans
"We recognize NFTs as an innovative way to bring the eSports community together while providing a new level of interaction that is unique and valuable. We believe eSports is growing not only because it's fun and spectacular, but also because it's in line with digital trends," said Yura Lazebnikov, partner at WePlay Esports.
Lazebnikov continued: "WePlay Collectibles are a fun way for fans to connect with their favorite players and get exclusive souvenirs to capture and immortalize our tournaments."
Helen Hai, head of Binance NFT, also said: "In recent years, eSports has grown from a small niche market to a real industry with a multi-million dollar audience across the world."
Hai added: "We believe that the NFT market with the fastest and most cost-effective solutions provided by the Binance infrastructure and blockchain community will be a useful innovation for the eSports industry."
Storyline tokens will be distributed in the Binance NFT marketplace through auctions and direct sales.