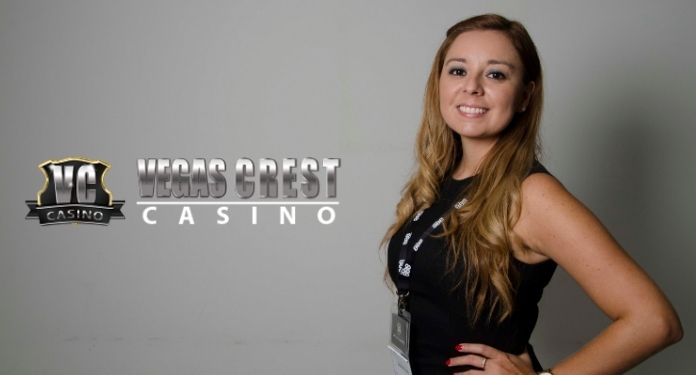 Vegas Crest Casino Brasil is a website aimed at lovers of blackjack, roulette, video poker and other casino games. Coupled with more than 900 slot machines that include gigantic progressive jackpots, the gambling site operates on the platform of Vista Gaming, an online casino gaming company founded in 1996.
The site is rich in promotions, exclusive tournaments, casino bonuses, cash rewards and free spins.
We spoke with Fabiola Olaso, Director of Affiliation at Vista Gaming and responsible for the company in the Brazilian market. In an exclusive interview, Fabiola commented on the company's proposal in Brazil, what they expect from regulation in the country and the marketing strategies they will adopt to attract Brazilian players.
Read Below the Full Interview by Fabíola Olaso
iGaming Brazil: Could you introduce us to Vista Gaming Affiliates?
Fabiola Olaso: Vista Gaming Affiliates has been in existence for more than 15 years as an affiliate program. It currently offers five successful online gaming brands.
Vista Gaming Affiliates is currently offering a 50% special revenue share for the first 5 months to new affiliates joining the program.
We also offer a 5% sub-affiliation commission when an affiliate recruits another affiliate and can earn up to 40% in monthly earnings. Hybrids and CPA offers are also available upon request.
The affiliate program runs on the MyAffiliates software for accurate tracking and detailed reporting.
iGaming Brazil: What makes Vegas Crest Casino different? Will this be the product for Brazil?
Fabiola Olaso: Vegas Crest Casino took over 1 year to build and integrate the best local casino game providers and payment processors.
It also offers exclusive promotions to provide online casino and bingo entertainment for Brazilians. The casino offers an innovative and unique bingo network, with 6 bingo rooms, more than 900 games and a live casino.
iGaming Brazil: What's makes Vegas Crest Casino unique?
Fabiola Olaso: It offers fun and first class entertainment to people. After 2 decades in the iGaming industry, our focus is to offer only the best gaming experience.
The wide variety of games, exclusive Bingo rooms and exclusive promotions make Vegas Crest Casino a very desirable brand. It is an online community where players are rewarded while enjoying the best casinos and bingo games.
iGaming Brazil: How important is it to present a brand to a country, before regulation?
Fabiola Olaso: Our goal is brand recognition, customer loyalty and learning what the market wants. An operator will only be successful when it understands what its customers want. We evaluate the customer's perspective and then offer entertainment and rewards tailored to our offer.
iGaming Brazil: Do you think about offering sports betting?
Fabiola Olaso: Not in the near future. Our mission is to offer the biggest and best online casino entertainment. There is a plan to offer more sports-related games in the coming months.
iGaming Brazil: What do you think will change with the regulation of gambling in Brazil?
Fabiola Olaso: I hope the regulation will help players feel safe while playing online. It is a long journey to educate customers about online gambling, which is a perfectly safe form of entertainment and that they are dealing with a reputable organization.
iGaming Brazil: Do you already have any planned marketing actions?
Fabiola Olaso: We made some excellent offers that we think Brazilian players will love.
Our new welcome bonuses include a free registration offer, with no deposit required. We can call it a free test drive that allows you to take a peek at the incredible variety of entertainment we offer;
Bonus on each deposit; where we reward customers with each deposit to extend their playing time;
Free entry tournaments – get a reward for playing those popular games;
We also offer customer service 24 hours a day, 7 days a week, via live chat;
Players can use the casino bonus to play our progressive jackpot games; this is very unique and we offer some very progressive slots.
The site was also built to offer players rewards according to the player's preferences, and does not penalize him if he is going to try new things. We also release new games weekly, which keeps things very exciting for players.