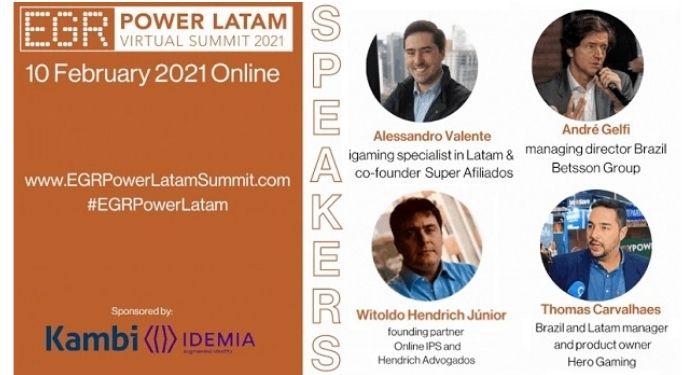 The EGR Power LatAm Virtual Summit 2021 will be held this Wednesday, 10. The conference is exclusively for guests, being specifically aimed at companies that are operating or considering entering the Latin American iGaming market.
Therefore, this is a great opportunity to get inside and have contact with the main players in the segment, as well as understand the changes in the regulations of the countries and the trends of the sector for this year.
The EGR Power LatAm Virtual Summit will be promoted in Spanish with the option of translation into English and Portuguese. Due to the current condition still impacted by the pandemic, the format will be completely online with a series of presentations, panels and expert evaluations.
Brazil will be the subject of the last debate, entitled: "Gaining momentum: will 2021 be the year of Brazil?", Moderated by Witoldo Hendrich and the participation of Alessandro Valente, André Gelfi, Thomas Carvalhaes and Luiz Felipe Maia.
Programming of EGR Power LatAm Virtual Summit 2021
13h10 – Opening panel: Going through the storm and new opportunities in Latin America
Moderator: Nicolás Samohod Rivarola (Estudio Vidal Cáceres Abogados)
Participants: Carlos Fonseca Sarmiento (Gaming Law), Cristina Romero de Alba (Loya Abogados), Dinos Stranomitis (Altenar) and Pedro Extremera (Playtech)
14h – Panel: Looking to the future in Latin America: innovation, location and speed
Participant: Alex Leese (Pronet Gaming)
14h20 – Panel: Focus on Argentina – a look at the growth potential of the fragmented online market
Moderator: Eduardo Morales Hermo (iGamingco & Ficom Leisure)
Participants: Tomas Enrique Garcia Botta (MF Estudio) and Juan Barrachina (Kambi)
3:05 pm – Panel: Expanding horizons – Update on Colombia
Moderator: Juan Camilo Carrasco (Asensi)
Participants: Iván Mauricio Guzmán (Asensi), Laura Gomez (Betfair) and Adriana Alfonso (Betfair)
3:50 pm – Panel: Online games compliance: verification, traceability and identity and age control
Participants: Armand Lecorche (Idemia) and Mohamed Messaoudi (Idemia)
4:15 pm – Panel: Advances in online gaming in Mexico
Moderator: Alfredo Lazcano (Lazcano Sámano)
Participants: Andrea Avedillo Builla (Lazcano Sámano) and Christian Tirabassi (Ficom Leisure)
16h55 – Panel: The next wave of innovation in Latin America: trends that are pushing the limits of product innovation and interested companies
Moderator: José Miguel Chueca, (JMC Gaming Consultants)
Participants: Fernando Garita (Betcris), Alberto Fenoglio (Entain) and Andrea Rossi (Betsson Group)
17h35 – Panel: Gaining momentum: will 2021 be the year of Brazil?
Moderator: Witoldo Hendrich Júnior (Online IPS e Hendrich Advogados)
Participants: Alessandro Valente (Super Afiliados), André Gelfi (Betsson), Thomas Carvalhaes (Hero Gaming) and Luiz Felipe Maia (FYMSA Advogados)