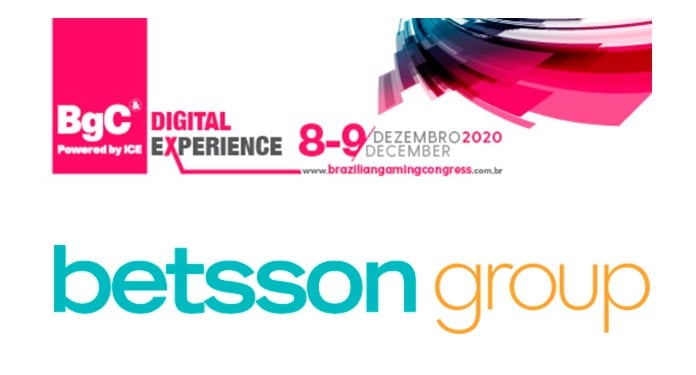 Betsson will participate in the BgC Digital Experience, 100% online version of the Brazilian Gaming Congress (BgC), a Brazilian gaming meeting that debates the legalization and regulation of games (betting) in Brazil, which will take place on December 8th and 9th, 2020.
This year's event will be 100% online and will feature a networking tool that will allow participants to be able to hold business meetings and exchange ideas and experience about the sector.
Among the topics to be addressed are the need to adapt the business model to the Brazilian market and the high standards of regulation and control in the gaming sector that guarantee efficient tools against money laundering and in favor of responsible gambling.
The event will also address the "boom" of new games in the sports betting market – such as eSports, Virtual Gaming and other sports besides football – especially after the stoppage of football championships due to the pandemic of COVID-19.
The panel's idea is to debate what has changed in the players' behavior and how operators can cope and prepare from now on.
André Gelfi, general director of Betsson in Brazil, will participate in the panel "Game is serious: Corporate Governance & Compliance in the sector" on the last day of the event.
"It is very important and necessary to have an event to discuss the needs of the sector. We had an important year with regard to the regulation of the sector and many updates have happened and need to be shared. ", Says Gelfi.
The participation of the Undersecretary of Prizes and Sweepstakes of the Ministry of Economy, Waldir Eustáquio Marques Junior, who will participate in a panel with the gaming specialist and President of the Panamerican Confederation of Sports Poker (CPPD), Igor "Federal" Trafane, as well as confirmed other names.
About Betsson
With 16 brands, including Betsafe.com, Betsson.com, NordicBet.com and CasinoEuro, offering Sportsbook, Casino and other games, Betsson Group has been one of the largest gaming groups in the world, at the heart of entertainment for over five decades.
In Brazil, Betsson is the first and only licensed operator in the Brazilian sports games market, in partnership with the Jockey Club of Rio Grande do Sul.
The company's mission is to responsibly provide a unique, fun and exciting, enjoyable and rewarding entertainment experience.
The Swedish group's experience shows Brazilians what it's like to have access to the best choice in the online gaming industry.