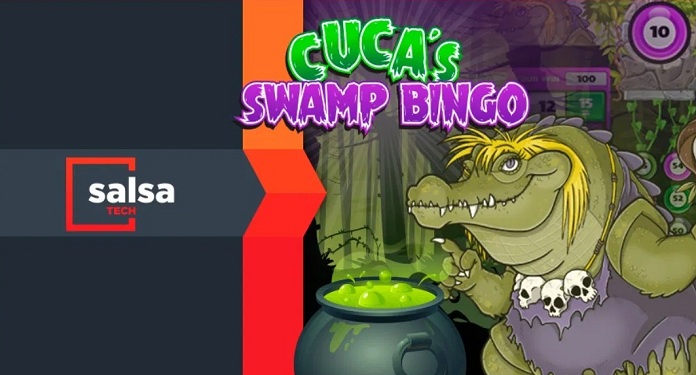 Salsa Technology launched yet another Video Bingo title inspired by famous witches. The new game was named "Cuca's Swamp Bingo" and is based on a very popular legend in Brazilian folklore.
Cuca's Swamp Bingo pits players against the witch that has a crocodile face and flowing blond hair. Cuca casts spells to lure adventurers into their swamp to steal rare items for their treasure and players are tasked with retrieving them.
This latest Salsa launch is a Video Bingo with 90 balls and up to four 5 × 3 cards on which you can bet on various combinations. There are 12 impressive winning patterns and there is the possibility to win the Jackpot by betting on four cards.
In addition, the title was designed for all screens, as it is 100% responsive for players to fully enjoy the experience on desktops, phones and tablets.
Salsa Technology CEO Peter Nolte said: "Cuca is famous in Brazilian folklore and our creative team loved to deliver this Video Bingo title".
Nolte added: "Salsa stands out in the production of localized content thanks to our incomparable knowledge of the region and we are sure that Cuca's game will have a very successful performance".
About Salsa Technology
Salsa Technology is an omnichannel iGaming platform that caters to online and physical operators. Its main game aggregation platform (GAP) is available in Latin America and in more and more regulated markets around the world.
Salsa Technology changed the name to Patagonia Entertainment in January 2020. This new identity embodies the company's dedication to globalization, localization and innovation. Thus, Patagonia started as a video bingo game development project for online casinos.
Since six years ago, the company has developed its own titles, adjusted for mobile devices. In this way, the company won new customers and partners, becoming a reference in several areas of Latin America.