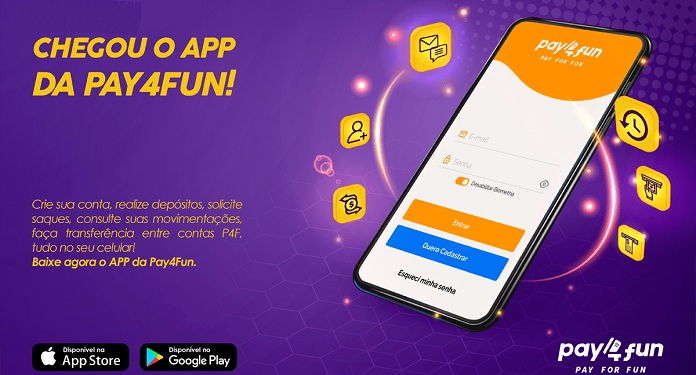 Pay4Fun is launching yet another feature to optimize its customers' daily lives. It is the official platform'´s app.. The purpose of the product is to make it much more practical to carry out the most varied models of operations in one or several Pay4Fun accounts.
According to the official statement, the app allows the user to register for new accounts, check their balance, see their transaction history and promote deposits, withdrawals and transfers between company accounts.
In addition, the mobile service has online assistance 24 hours a day, seven days a week.
Brazilian Fintech surpassed the mark of 100 integrated partners
Nowadays, the platform has more than one hundred integrated partners in the most diverse sectors of the national market.
This means that the application allows users to make both payments and fund transfers to an even greater number of commercial establishments, online stores and other accredited businesses.
According to the official note, Pay4Fun is also planning to launch new products soon, such as the Pay4Fun Card associated with a virtual company account.
Recently, the company has also seen growth and 24% customer service. Altogether, there have been more than 740 hours of service availability.
This indicates a trend of increasing interest from customers in adopting the platform's features to carry out their financial operations.
About Pay4Fun platform
Pay4Fun is a payment platform that allows its customers to make transactions in an agile and secure way.
In addition, the company provides a modern e-wallet, in which transfers to portals and associated companies are made in a simplified way.
Therefore, the goal is to optimize the routine of consumers and merchants through a connected and intuitive channel, providing specialized support at any time.