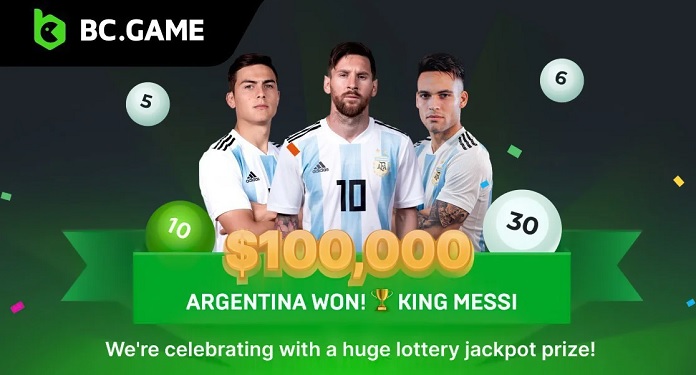 BC.GAME, official sponsor of the Argentine Football Association (AFA), has announced a special event to commemorate the historic victory of the Argentina National Team in the World Cup in Qatar.
The company reported that it is a huge lottery event with up to $100,000 up for grabs for VIP players of the online casino. Those who meet the requirements will receive more information about the opportunity through email and platform notifications.
BC.GAME, a partner of the Argentine national team since September of this year, congratulated the team for winning the "greatest football game" in history. "Argentina's victory brings more excitement to the football community and cryptocasino players as it opens up more sports betting opportunities globally," reads a statement.
Furthermore, the group anticipated that the BC.GAME community can look forward to more player-only events and promotions, in addition to the social media activities and engagements brought about by the recent BC.GAME and AFA partnership.
The company highlighted that Argentina's victory over France, on Sunday, 18, adds another victory to the list of world champions of the country, since it is the third World Cup won since the last title in 1986, but emphasized that it is " a great climax to the legendary career" of Lionel Messi.
BC.GAME has been in business for five years and offers a wide range of casino games, live casino and sports betting opportunities. It has more than 8,000 game titles on its platform which can be accessed on both desktop and mobile. In June 2022, it was recognized as "Crypto Casino of the Year" at the 2022 Sigma Awards.
BC.GAME announces Flamengo player as new ambassador in Brazil
The company is also promoting actions aimed at the Brazilian market. Recently, BC.GAME announced defender David Luiz, from Flamengo, as the brand's new ambassador. The player will contribute to the company's team to promote the casino and interact with the community from social networks and platforms.
David Luiz will connect with the BC.GAME community through social media, including Twitch, a streaming platform for games and entertainment. "I am very happy to have closed this partnership with BC.GAME and very excited about this collaboration", said the athlete.