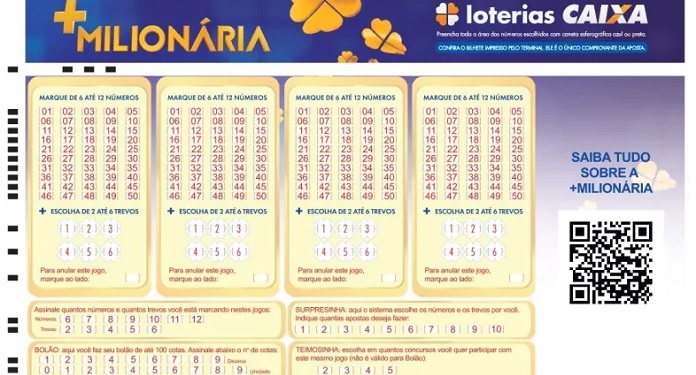 Brazilians can now place their bets to compete for the +Millionária prize, the new lottery modality of Caixa Econômica Federal (CEF). Betting started this past Monday, May 2. The first contest is scheduled for May 28, a Saturday.
The new lottery will offer a minimum prize of 10 million reais every Saturday. Therefore, +Millionária has a minimum bet of 6 reais. The bettor must select six tens in matrix I (numbers from 1 to 50) and two tens in matrix II (clovers from 1 to 6) of the game shuttlecocks.
However, the chances of guessing the eight numbers will be smaller. According to statistics published by CNN, the chances of winning the maximum prize in the new lottery exceeds one in 230 million. In comparison, in the case of Mega-Sena, the possibility of pocketing the millionaire prize is one in 50 million.
To win the jackpot, the player must match all six tens and the two selected clovers. +Millionaire has ten award tiers. In addition, the modality continues to rely on the 'Surpresinha' system, which chooses the tens for the player and the 'Teimosinha', which allows the player to continue with his bet in up to five consecutive draws.
Bets on +Millionária can be made in lottery and on the internet
Therefore, bets can now be placed at lottery agencies in the national territory, on the Loterias Caixa platform and on the official app. Remembering that the draws will take place every Saturday at 20 pm, Brasilia time, with live broadcast.
The new lottery modality is launched at a time when Brazilians are placing more bets. In total, there were BRL 18.83 billion in bets last year, a growth of 7.7% compared to 2020, according to information from Caixa Econômica Federal.
With +Millionária, Caixa now has 11 contests: +Milionária; Dia de Sorte; Dupla Sena; Loteca; Loteria Federal; Lotofácil; Lotomania; Mega-Sena; Quina; Super Sete e Timemania.