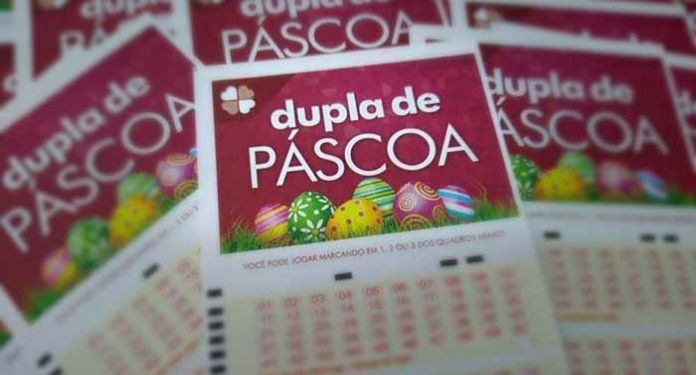 Caixa Lotteries started, last Sunday (04/03), exclusive sales of the Easter Dupla. This means that the regular Dupla Sena draw calendar will be paralyzed so that betting will only focus on the special lottery.
In this way, bettors will have five less draws in this period, as the extractions take place on Tuesdays, Thursdays and Saturdays. The Easter Duo contest will take place on April 16th.
During this period of exclusive sales, all bets on Dupla Sena are automatically directed to the special draw. The action serves as an incentive for people to play in the contest, increasing revenue and, consequently, the final prize
This is the sixth edition of the Dupla Sena special contest. The biggest prize of the modality was R$ 31.4 million in the Easter Dupla 2021. Four bets from Belém (PA), Bauru (SP), Guarulhos (SP) and São Paulo (SP) hit the six dozen and divided the prize principal, the last two being a pool of ten and two quotas, respectively.
Lotteries: learn how to play in the Easter Dupla Sena
It is simple to bet on the special edition of Dupla Sena: the player needs to choose his tens and hope that they are drawn – it is worth remembering that this lottery has two draws for each contest.
Bets for the Easter Double must be registered by 7 pm on April 16 at lottery units, on the Loterias CAIXA Portal and the CAIXA Loterias app. The single bet costs R$ 2.50.
With just one Dupla Sena ticket, the player has twice the chance of winning: there are two draws per contest and you win by hitting 3, 4, 5 or 6 numbers in the first and/or second draws. The player must choose from 6 to 15 numbers among the 50 available to play in Dupla Sena.
In lottery shops, during exclusive sales, bets can be made either on the special contest steering wheel or on the regular Dupla Sena steering wheel. The bettor also has the option of requesting the Surprise at the terminal.