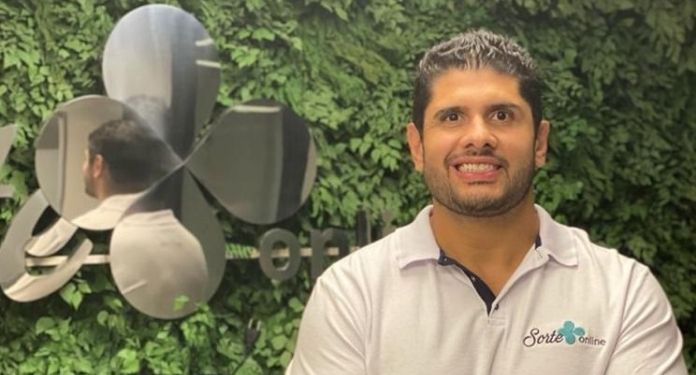 Marcio Malta has been at the head of the Sorte Online Lottery Betting portal for 1 year and a half. Advertising professional, he has been working in digital business for over 10 years and has worked for companies such as Groupon, CVC and Costa Crociere, in addition to having led the digital area of ​​the DM9 agency.
The iGaming Brazil team held an exclusive interview with the entrepreneur, who explained about the work of Sorte Online, company perspectives and other subjects.
Check the interview in full.
iGaming Brazil – Marcio, how do you see this issue of partnership with other companies?
Marcio Malta – The partnerships that Sorte Online has established with important players in the national market are an effective way to expand our audience and solidify the brand as the largest portal of lottery services in Brazil. In addition, partnerships allow our platform to reach different types of media, both on and offline, increasing the capillarity of our communication channels and, as a result, reaching new users across the country.
Consumers are increasingly connected, their habits have been incorporated into the online environment, from shopping to managing their finances, everything is done on digital platforms and wallets. Therefore, it is important that the lottery market is effectively integrated into this new reality, thus maximizing our penetration and reaching places that we had no reach before.
iGaming Brazil – Has it been positive for Sorte Online?
Marcio Malta – Yes, the results are very positive for Sorte Online, as we increased our customer acquisition in the last year by more than 20% through partnerships. But it is worth mentioning that the benefits are mutual, since the partner companies are able to diversify their range of products and also offer exclusive benefits to their consumers.
And lotteries are a very attractive product, offered very conveniently, in the case of partners, through wallets, fintechs, loyalty programs where our product ends up being a great redemption option with few points with chances of winning a high prize pool, and the best part is that the player does not need to leave the house to guarantee their participation in the desired contest by betting on Sorte Online.
iGaming Brazil – What are the prospects for the company this year?
Marcio Malta – We are always focused on bringing excellent services and the best user experience. For this, our investment in technology is increasingly expressive, which is reflected in greater stability of the platform and performance of the portal and also in the optimization of the resources we offer to our bettors.
In 2022, we will have a completely renewed and transformed platform. In addition, we significantly increased our investment in Marketing with the aim of accelerating the company's growth to even greater levels.
Another important element is that we have a solid roadmap for expansion into new sales channels, so, in addition to reaching a wider audience, we will be able to promote experiments even in offline media, making our operations even more powerful.
At the same time, we are always attentive to regulatory aspects and global best practices in the sector. Sorte Online could be called the Rappi or iFood of lotteries, it appeared long before these startups and we are working to raise the level of the lottery market with partnership, professionalism and the best of our staff and partners.
iGaming Brazil – How is Sorte Online getting ahead of the changes and innovations that the lottery industry is going through?
Marcio Malta – Our team is always up to date with innovations in the technological area and constantly implements solutions that optimize the resources we offer on our website. At Sorte Online, technology is our central vein, that's why we don't measure efforts and investments to present the most complete site for Brazilian players.
In addition, our premise is to anticipate the news for our audience. For example, a new lottery should be launched soon and, since last year, we have had an exclusive page with preliminary information about the contest and the site is already prepared for players to play their games as soon as the modality debuts.
Our penetration via mobile devices is certainly among the highest in the market and this is only possible through a constant work of improvement with the product and technology teams. Instant payments also brought and still bring a challenge and great opportunity to the market and we didn't miss this wave; we were able to greatly optimize our experience in this rapid trend.

We know and follow global trends in Artificial Intelligence (applied in our pools), as well as new innovations that emerge on an exponential scale such as the blockchain and metaverse. We seek to explore and use in the best way technologies and tools that offer the best experience to our consumer.
iGaming Brazil – Did the pandemic accelerate any kind of change in the company's business model? And in this recovery process, how do you see the market?
Marcio Malta – The pandemic accelerated the change in behavior of Brazilian consumers, who were encouraged to buy online more often and to use digital services for situations that, in some cases, they were not used to.
This scenario was reflected in the online lottery segment, which allowed players to continue to compete in their favorite contests, but with the security of not having to leave their homes. Both in 2020 and in 2021, the lottery collection broke records and, at Sorte Online, we could also feel this positive reflection.
Even with the resumption of in-person activities and the lighter restrictions, we see that a large part of the players have already become adept at the online lottery and the expectation is that we will have an increasing number of people looking for the convenience of betting wherever they are and at any time of day.
iGaming Brazil – What are the goals and plans set for Sorte Online in 2022?
Marcio Malta – Our goal plan for 2022 reflects the commitment of Sorte Online to present the most advanced features in lotteries to consumers and also the capillarity that our business is achieving every day. Our goal is to grow our customer base by 50%, transform the public's experience with our product through the launch of a new platform and also expand our sales channels, reinforcing our digital and multimedia vein.
iGaming Brazil – In terms of demand, did this year's Mega da Virada surpassed that of previous years? Did the pandemic help with that? What do you expect for this year?
Marcio Malta – Mega da Virada is the great flagship of lotteries, it is certainly the most awaited contest of the year by players. For our segment, Mega da Virada is just as important as Black Friday. She is responsible for generating gamblers' attention and awareness for lotteries and our brand.
The work brings the entire team together in an effort that we carried out during the Mega da Virada period is certainly the most relevant, as in addition to bringing in revenue, it also stimulates the acquisition of customers for the next year.
And in this sense, our strategies are consolidated to promote the solidification of the brand for the public that already consumes our products and also to expand our presence for those who are not yet so familiar with online lotteries.
In addition, in 2021, we had the historic prize pool of BRL 378 million, which was a key element to arouse the interest of players, which was reflected in sales and in the collection of the special draw, which was the largest since its creation.
This year, the expectation is that the amount drawn will be even more expressive and, thus, the reach of the public and bets will be even more significant.
iGaming Brazil – Regarding the casino law, do you think the legalization of gambling in Brazil is positive? For what reason?
Marcio Malta – Regulation and legalization in any market segment usually bring positive consequences, since they interfere in a chain that encompasses companies, workers and society as a whole. In addition to tax collection for the Government, which will be distributed in the most varied sectors, it is possible to generate jobs and bring security to those who use the services.