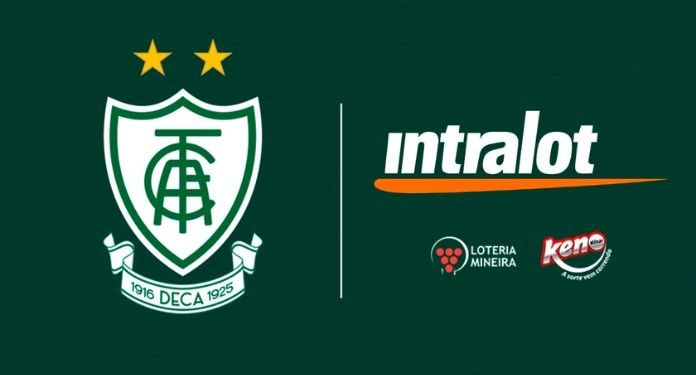 Intralot, owner of the online lottery Kenominas, renewed its sponsorship contract with América Futebol Clube for another season. The company, which operates with cutting-edge technology in the iGaming industry, reaches the third year of its relationship with the football club.
In addition, the renovation brings great news: the Keno Minas brand will now be stamped on the front bar of the shirt. Before, it was at the hem of the back of the shirt.
America's Director of Marketing and Business, Erley Lemos, mentioned that the agreement with Intralot proves the recognition of the work that has been developed in recent years.
"It is a reason for satisfaction to continue another year with Intralot and to see the evolution of this partnership that started in 2020, went through the naming rights of TV Coelho, back bar of the shirt and, now, Keno Minas will be on the front of our uniform".
"We have built a very trusting relationship with Intralot and we have achieved very positive results together. We expect even more success for both parties in the season that is starting", commented Erley.
Intralot had great results in 2021
Intralot reported 202.6 million euros ($239.98 million) of group revenue for the first half of 2021, an increase of 34% over the previous year.
The international gaming solutions and operations group released its financial results for the first six months of the year.
Its earnings before interest, taxes, depreciation and amortization (EBITDA) were 54.3 million euros (US$64.3 million), an increase of 107%, while gross gaming revenue (GGR) stood at 163 .9 million euros (US$193.9 million).
Lottery games contributed the most to the group's top line, comprising 59.5% of its revenue, followed by sports betting, which accounted for 18.3% of the group's turnover in the six-month period.
About the lottery operator
Founded in 1992, Intralot is a leading provider and operator of gaming solutions active in 42 regulated jurisdictions worldwide.
It is an innovation-driven group and is uniquely positioned to deliver market-tested solutions and retail operating experience to lottery and gaming organizations.