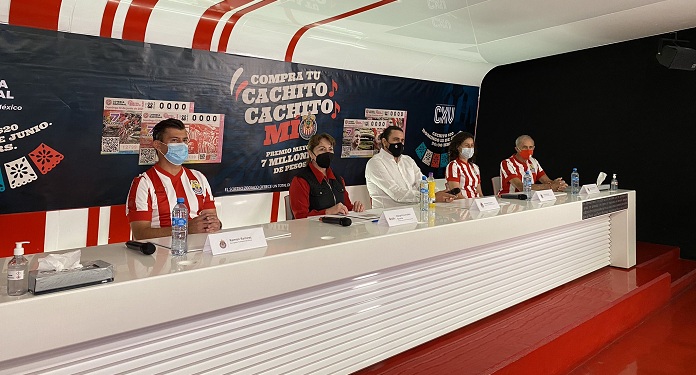 Club Deportivo Guadalajara, popularly known as Chivas, will celebrate its 115 years of history with a partnership with the National Lottery of Mexico, which will honor the football team with special designs on lottery tickets.
"On the occasion of the 115th anniversary of the club, the National Lottery revealed at the Akron Stadium, the commemorative ticket for the Draw of the Zodiac No. 1530, which in June brings the image and the emblem of one of the most representative football clubs in our country", announced the lottery.
Margarita González Saravia Calderón, head of the National Lottery, said Chivas "is at the heart of all Mexicans" due to his exploits on the pitch and the large fan base he has formed throughout his history.
"Loteria Nacional celebrates in May 251 years of its first draw. It is the second oldest institution after the Mexico Post. And we have an important legacy, what is collected goes to health projects, for social benefit, people have fun and can win. In this case, the image of Chivas, Club Deportivo Guadalajara, is already found throughout the Mexican Republic. It is a great satisfaction to be part of this tribute ", said Calderón.
The Draw for Zodiac 1530 will take place on June 13, a Sunday, with the main prize of 7 million pesos (about 1.8 million reais) and another 24 million pesos (R $ 6.4 million) to be distributed in other prizes.
Chivas representatives praise partnership with the National Lottery
Amaury Vergara, president of Chivas, said: "It is something very symbolic of Mexican culture, like Chivas, which is the National Lottery. In this context of our 115th anniversary, we are very excited to have an unprecedented participation in the National Lottery ".
Vergara added: "We want to share what we have prepared for all the fans and not only for them, but for those who feel lucky and want to buy a ticket with the tradition and the whole history of Club Deportivo Guadalajara. Thanks to Loteria Nacional for this collaboration, which makes us very happy and excited ".
Ramón Ramírez, a former Chivas player, also said: "I am very happy and honored. From the first day I stepped in the field of this institution, I fell in love and will remain in love for my whole life. Today, this 115th anniversary is being celebrated with the National Lottery, it simply reflects which is the most popular team in this country ".