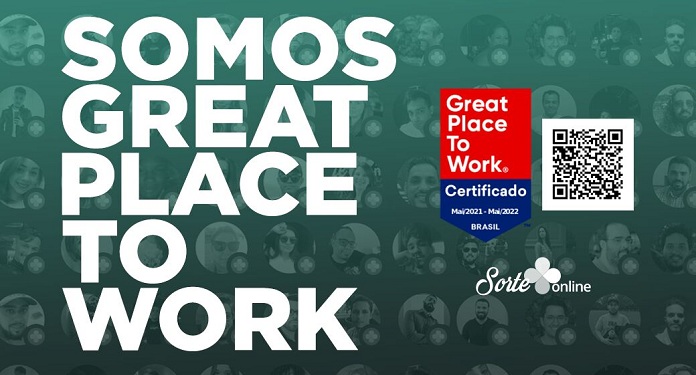 Grupo Sorte Online announced that it obtained the Great Place To Work® seal in 2021. The certification was achieved after the company reached a score of 84 in the research promoted by the institution – the result achieved was 14 points above the minimum required in the evaluation process .
The seal makes it possible for the group to be in the final ranking of companies that establish excellent places to work and which will be announced next month. Organizations obtain the Great Place To Work seal from a survey carried out by the certification program with their collaborations and which assesses the quality of the work environment.
The analysis takes five different points into account: credibility, respect, impartiality, pride and camaraderie. At least 90% of employees need to answer the survey and the results are always announced in groups of at least five people, ensuring data privacy.
In addition, this seal is valid for 12 months and can be used in institutional content and disclosures. Based on the research results, it is possible to define a strategy focused on actions that can contribute to people management within the company and, thus, generate improvements.
According to Marcio Malta, the CEO of Grupo Sorte Online, this achievement reflects the advances made with the team. "It is a great honor for us to receive the Great Place to Work certificate. We have an extremely skilled team working with us and it is very gratifying to know that these people, who make a total difference in the company's day-to-day lives, see Sorte Online as a safe, friendly and diverse environment to work in ", he declared.
Malta added: "We are increasingly focused on improving our management and implementing actions that have a positive impact on the processes and activities that each area performs."
About Sorte Online
Launched in 2003, the portal has already distributed over 145 million reais in prizes to players from all over Brazil. The platform is the most complete in the sector and allows bettors to play games in the favorite lottery mode and still have access to the odds of jackets prepared by specialists, who create combinations to expand the chances of winning.