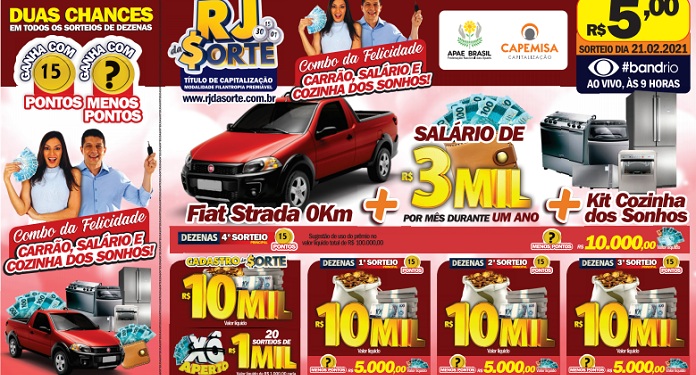 RJ DA SORTE will promote sweepstakes this Sunday, the 21st, with prizes for tens starting at R $ 5,000 and going to the Combo da Felicidade, with a FIAT STRADA 0 KM, salary of R $ 3,000 per month, for one year and the Cozinha dos Sonhos, with stove, microwave and even the two-door refrigerator with inverted freezer.
In addition, the bettor will have two winning opportunities in each of the main contests with more or less points. That is, the lucky and the underdog will be awarded.
RJ da Sorte also offers the Lucky Register with 20 draws of one thousand reais and one of R $ 10 thousand for those who register by phone, website or application until the evening of the 20th.
The contest will be broadcast live from 9 am on Band. Whoever doesn't win, at least, will be collaborating with a charity. Since part of the amount paid for the title is intended for maintenance of the Associations of Parents and Friends of the Exceptional (APAEs) in Rio de Janeiro.
Reconciliation between mother and daughter live in RJ da Sorte
Viewers of the program aired on January 31 were probably thrilled. This is because the capitalization bond presented the story of the winner Luciana Muniz, from Nova Iguaçu, who ended up reconciling with her own daughter.
It all started when the RJ da Sorte team visited Luciana, who revealed, live, that she would like to take advantage of that moment to ask her daughter's forgiveness and just needed a chance to explain herself.
From there, the team searched for Luciana's daughter and made an invitation to participate in the program so that Rio de Janeiro could witness family reconciliation. The scene was quite emotional and the two made up, anyway.
With her prize money of R $ 19,750, Luciana stated that she will renovate her house and return to invest in her hamburger business.