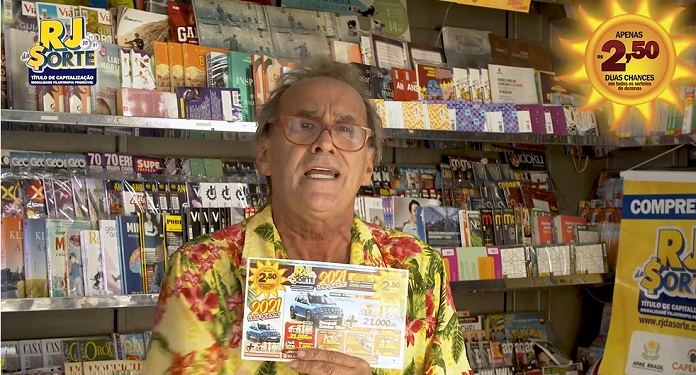 To start this new year with the debts cleared, the new campaign of RJ da Sorte is counting on a prestigious name on national TV. In partnership with the agency Novos Rumos, the charismatic character Sambarilove, played by actor David Pinheiro, was chosen to be the protagonist of a series of new advertising pieces.
The new star was summoned to help publicize a Renault Duster + 2021 Without Debts, totaling R $ 100 thousand, which will be raffled off this Sunday, 24. The campaign is already being shown on TV stations and social media with the character's famous catchphrases.
Watch the new RJ da Sorte campaign with Sambarilove:
The draw of RJ da Sorte will take place this Sunday
The value of the capitalization bond is only R $ 2.50 and the lucky person will still have the freedom to choose whether they prefer to receive their prize in cash . Participants can also compete for the 'Kitchen of Dreams' kit with refrigerator, stove, washing machine, dishwasher and microwave and several other cash prizes.
"The number of Brazilians with debts on post-dated checks, credit cards, overdrafts, store receipts, personal loans, the provision of cars and insurance reached the highest percentage in history last year, according to the National Confederation of Trade in Goods, Services and Tourism (CNC) ", said Marco Elias, Marketing Director at Novos Rumos.
He added: "The proportion of indebted families reached 67.1%. That's why we thought about this award and we couldn't choose a better character to translate. Here in RJ da LUCK, there is no sambarilove. It is a drawing and prize in the client's pocket and money transferred straight to the APAEs account. And the campaign translates that ".
The contest will be broadcast live, at 9 am, this Sunday, on TV Band. Customers who wish to check out the replay can watch NET TV channels 25 and 525 at 6 pm on the same Sunday.