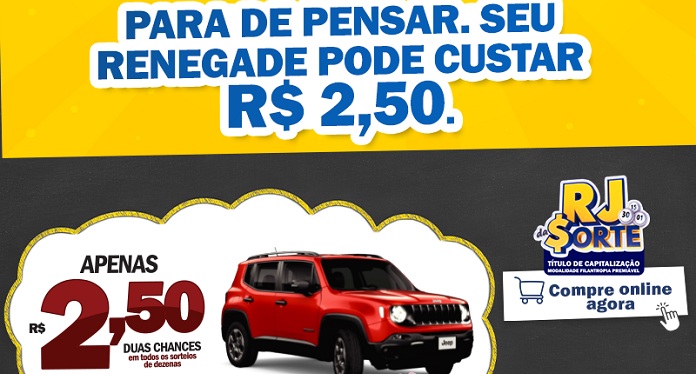 RJ da Sorte wants to reward a resident of Rio de Janeiro with a Jeep Renegade 0 km in its main contest of the tens. In addition, customers can count on a discount of '2021 Vem Quente' for R $ 2.50 worth of the title.
Thus, the bettor has the chance to win a new car and around R $ 40 thousand in cash for a promotional price. Bearing in mind that in each of the four contests, the client of the savings bond has two chances of winning. Altogether, RJ da Sorte has already awarded four thousand people across Rio de Janeiro.
In the 'Cadastro da Sorte', there will be 20 raffles of one thousand reais and a kit 'Kitchen of Dreams' with refrigerator, stove, washing machine, dishwasher and microwave; for anyone who adds the title information on the official platform and in the app, or purchase virtually until Saturday, 16.
The contest will be held live, starting at 9:00 am on Sunday, 17, with broadcast throughout the country by TV Band. The replay can be seen on TV Max, NET channels 25 and 525, at 6 pm on Sunday.
About RJ da Sorte
Now, the resident of Rio is already able to test his luck with a few clicks. With a new partnership, in addition to being able to make the purchase through the official website in the boleto or on the card, the digital title can be paid with credit on PicPay.
In addition, this is a capitalization bond in the form of a rewardable philanthropy, created by Capemisa Capitalização, with an operation released by the Superintendency of Private Insurance (SUSEP), an agency linked to the Ministry of Economy's portfolio and which oversees all securities in the National territory.
RJ da Sorte complies with all measures required by the sector's regulation, which transfers the redemptions to help fund the programs of the 62 Association of Parents and Friends of the Exceptional (APAEs) in Rio de Janeiro.