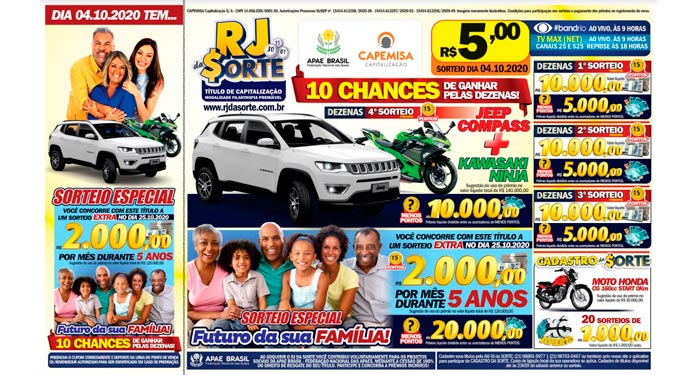 The unemployment rate in Brazil reached the highest level since 2012. It reached 13.8% in the quarter from May to July, according to the Brazilian Institute of Geography and Statistics (IBGE). As a result, many families are struggling to guarantee the income and future of the entire family. That is why RJ DA SORTE is launching a special award in October.
It is the extra draw 'Future of your Family', which will award a prize equivalent to R $ 2,000 per month for five years. It is unprecedented.
This gift, which will take some residents of Rio de Janeiro out of trouble and guarantee financial tranquility for 5 years, happens in the special draw at the end of the month, 10/25. All RJ DA SORTE® titles from the October draw will count towards the special draw.
This weekend, the CAPEMISA capitalization title client competes, for the tens, for a Jeep Compass 0km car + a Kawasaki Ninja motorcycle in the fourth drawing of tens, and many other cash prizes in the other drawings.
In the 'Cadastro da Sorte', RJ DA SORTE® will raffle a Honda 0km motorcycle and 20 more 'Xô Aperto' prizes of R $ 1,000 each, for those who register or buy online until 3/10. All this for only R $ 5.
Partnership with PicPay
Now, in addition to being able to make the purchase through the website, on the credit card and bank slip, the digital title RJ DA SORTE® from CAPEMISA Capitalização can be paid with credits on PicPay.
RJ DA SORTE ® 
It is a premium philanthropy capitalization bond, developed by CAPEMISA Capitalização, with an operation authorized by the Superintendence of Private Insurance (SUSEP), an agency linked to the Ministry of Economy, which oversees capitalization bonds throughout Brazil.
RJ DA SORTE® meets all the requirements required by sectorial regulations, in particular SUSEP Circulars No. 569, 576 and 582/2018 and is intended for redemptions to APAE – Brazil, to finance projects for the 62 APAEs in Rio de Janeiro.